A motorcycle journey through South America-from each word in this phrase is suffused with the spirit of romance. But at first glance it seems also unreachable, as buying a car in the United States and travel on it.
However, the United States, we have already successfully passed, and since the beginning of the round-the-world trip was able to visit not only by car, but also: Learn how to manage your motor boat in the ocean, drive thousands of kilometers of hitchhiking, tired from all types of buses (where weirdly cold or hot, crowded, shakes, stinks, there are bugs, flying chicken or insanely loud playing local pop), fly planes, many walk, ride on huge marine ferries , cross the River on boats. In General, we have long dreamed of a motorcycle! And South America is perfectly suited to this type of transport: a large number of roads of varying degrees of bezdorožnosti result in amazing, beautiful and maloposeŝaemym tourists places.
Our background
We started to watch motorcycles for buying back in Colombia. But then stopped 2 things: lack of money and a large amount of evidence that Colombian bike tourists not to leave Colombia. This turned out to be a lie, because we met on the road tourists who purchased the motorcycle in Colombia and quietly went to Ecuador and traveled farther through South America. Also greeted reports of foreigners on the Internet.
Then we arrived in Ecuador and steel monitor international forum HorizonsUnlimited riders to find motorcycle with u.s. numbers, buy another traveler, and then re-register documents remotely on yourself. Better if it would have been a motorcycle from California because California DMV we already dealt with, and had friends who'd helped do everything on site. But the appropriate options at the time came-very few people wanted to sell the motorcycle on the border of Ecuador, in the middle of the way from the United States to Patagonia. Usually sold in Peru, Colombia, Chile or Argentina. In Ecuador it is much rarer.
Once we even contacted the Germans, who traveled on a 2 x Suzuki DR650 and were willing to sell 1 motorcycle.
Here's how it looked (Suzuki DR650):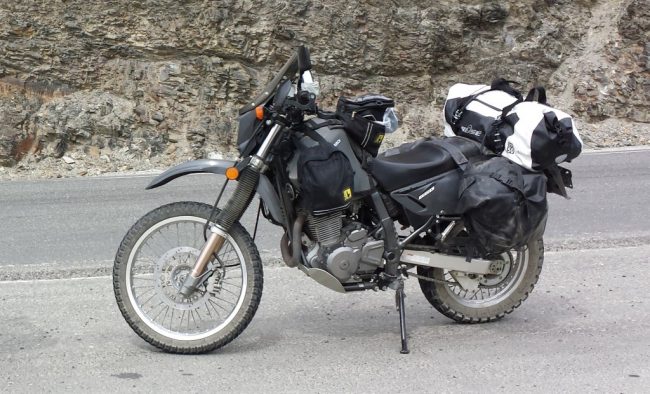 But problems emerged:
1. On the "net" was problematic reissue bike transit documents. Customs claimed that the bike will not release if the temporary import permit will be another owner. Then could trigger another scheme: German exports bike in the neutral zone between the borders, and we are getting to a new country (Peru). In a neutral zone in pinkslip (American ownership document for a vehicle) write the new owner.
New questions arise here: the temporal from the previous country-German name, pinkslipe all, Peruvians can zauprâmit′sâ. And yet in recent years, Peru has tightened rules on temporary importation. So one Russian traveler due to the delay of stay in Peru lost a van with all things-its just confiscated.
The Germans have said-pay a bribe, somehow decide "this same Latin America!". But we decided at that time not to drink champagne.
2. The second problem: bike was from Michigan, and we have no friends there.
3. The third problem was that sold it for $ 3000 USD (with bags and all modifications), and this is just what we had. That is, if we do not bike across the border were, it would be left with nothing: no money, no bike. This is a solid beater our nerves, especially once sat on the motorcycle safely, as will dissect the mountains-deserts-tracks …
The option of purchasing or new motorcycle did not involve us in Ecuador for one simple reason: in Ecuador, all expensive. And then we went to Peru.
In Peru star formed:-)
In this country simply buy a vehicle. Both new and used. Arriving in the town of Jaen in Northern Peru we amazed at! In personal vehicles is virtually non-existent grode! All the streets are filled with motorcycles and taxis. By happy coincidence, we decided to go a little further to the South and to stay in a small village in the District of Chachapoyas in the Amazonas. Later we found out-in this state any tax benefits, so lower prices on many things, including and new motorcycles. Read at the end of the article a few bonus tips.
Buying a motorcycle in South America (Peru)
Let us first describe the procedure of buying a motorcycle.
As we know from the words and from other reports describe in general terms.
Buying a motorcycle from a private trader in Peru
This version of the tool. Guided instruction, one foreigner can be bought and sold and then used a motorcycle in Peru.
Let me give you general advice:
1. Look for a suitable motorcycle through acquaintances, friends or on sites neoauto.com, olx.com.pe, motos.mercadolibre.com.pe or other.
2. Meet with the owner, view motorcycle and decide will take or not.
3. You need to have a special stamp in their passport is issued, foreign migration offices (Aduana). A stamp called "permiso especial para firmar contratos. It operates just 1 month and need both for purchase and for sale. Registration stands 12.25 Peruvian Salts + $ 50 USD.
4. You have to have mandatory insurance for motorcycle, it is called SOAT. The most popular agency Positive and Mapfre. About our choices tell just below.
5. With the old owner of you go to the notary (them in Peru perform many roles: pereoformlâût owners of transport, property, marriage, etc.). Notary searches in the database of the Ministry of transport-is the bike theft, whether an accident, etc. either you yourself go to a State Agency and ask SUNARP help from them, and then back to the notary.
The notary shall prepare the sales contract, you pay with the previous owner and can already ride on your motorcycle. You will contract, insurance and old card holder rights on the motorcycle. The card has no name, and police officers scan the barcode for scanning.
One but cannot travel abroad. Will have to wait up to 2 weeks, until your documents come on motorcycle.
We decided to look for and buy a new motorcycle. And here's why:
Selection of used motorcycles in the area where we lived did not suit us. Village were all killed, "Chinese", and decent Honda or jamahi cost only slightly cheaper new motorcycles.
The notary also need to pay for paperwork and this amount about 200 soles.
We didn't have near the town with the Immigration Office and the nearest need a long ride. And again, this is money.
In chachapoyas, there are dealers of Honda, Yamaha, as well as have the opportunity to choose among different Chinese: Lifan, Wangxin, Qingqi, Cross, Samurai and others.
We had time to make a choice:) Since we decided to stay in the village for 3 months.
Buying a new motorcycle
We visited the shops received questions sellers sat on different models and tried to understand our this "horse".
Eventually settled on Yamaha YB125 for several reasons:
He had a comfortable wide seat plate,
free IT 3 times (500 km, distance, 4)
I studied at YBR125 since traveled only on "malolitražkah" and scooters,
locals ride similar bikes, so we won't attract attention cumbersome powerful travel-bike,
consumption should be small (we were expecting 3 l per 100 km, but it was the first 5000 km, which is usually less consumption 2.5 l per 100 km),
motorcycle light and maneuverable,
$1400USD price is not much needs redecoration and still take good helmet and prepare a motorcycle to a path
He red))
Worried just a few things:
whether he will pull us with luggage (total weight of around 150 kg)?
How long will it take?
How to come up with mount?
After 5000 km on the snowy mountains above 4000 metres above sea level, sand roads along the coast, I can say with certainty-Yamaha YB125 (we called it "friend") pulls confidently two people with luggage! :) The truth is, sometimes you have to go very slowly. Sometimes when there is a steep serpentine road with boulders or with a thick layer of dust, in which wheels glide on smoothly, Nastya slazit and rises to a less steep plot afoot. But this does not happen very often.
On paved tracks direct type Panamerikany there is danger in the form of fur and large buses. Some of them are even free opposite prefer to zoom and pre-loading, while dumping off the road on the side of the road, which is not always smooth (of course, if it is bad-we do not leave). While we are not going on the middle of the Strip, and hold half a meter from the right edge. But the buses don't normally want to overtake. They require that all the lost them. Even if we go with a speed of 70-80 km/h. They forgot. Very often along the roads, especially in the mountains, you can meet monuments perished in the accident. Isolated monuments are extremely rare. Often this group dead at one point. It's buses, whose drivers had failed to control and destroy all passengers.
Another danger-riding in the evening, even though we tried to avoid movements during the hours of darkness. Peruvians prefer not to switch off the main beam. And if you grant them-off signal far, turn on the middle-third of the drivers will ignore a third off and when approaching again will feature far, blinding you. And only the remaining one third will switch off and include the main beam only once will.
The process of buying a new motorcycle in Peru
A bit distracted from the main part. So how do you buy and place your motorcycle? Tell on our example.
Once we have chosen the motorcycle, it took less than an hour to make a purchase.
1. Pay money. We bought a Yamaha YB125 for 4750 new Peruvian salt, it's about $1400USD.
2. Get 2 contract, sign them and one reserve itself.
3. Get a warranty book.
4. Pick up power ups store. We have it was a cheap helmet, which we immediately changed the compact pump.
Now you have to wait 1-2 weeks before coming document from SUNARP entitled "Tarjeta de identificacion velicular". We pick up in-store also Yamaha. This document certifies that you are the owner of the vehicle. This card does not have a name, but there is a bar code and number, which will be incorporated into the registration plate. License plate does not come immediately, it still need to wait 7-10 days.
While waiting for the license plate, you can already take a motorbike and drive. You only need to issue the mandatory insurance SOAT. We chose Office Mapfre: they have a price for 4 month coverage throughout Peru (one State and for all different prices Peru) was salt 101. Somehow the other rate went around 300-400.
Because the numbers we have not happened, we did sign "Placa en tramite" and hanged instead. And with him carried documents on purchases, insurance and card holder. Ride with such a sign can be 2 weeks as we were assured by the police.
We also bought:
-for 425 salts 2 good certified helmet LS2 (the only couple who was in the city of Chachapoyas),
-for 130 salts neighbouring fellow welder welded frames for our bags,
-for salts 33 chain lubricant
-for 18 salts spare camera
-over 40 Soleil protective gloves,
-for salts 20 bike lock helmet (he broke through 2 months, instead of the usual chain and bought a normal Castle)
-for 180 salts protect the knees and elbows,
-for 1 Sol watermelon.
Gasoline in Peru
The most common fuel gasoline with octane number 90. Sometimes you see a 95, but not often. Prices range from 10 to 90 13-15 salt per gallon (60-70 rubles per liter). It is best to use reputable companies (we prefer Primax and PetroPeru) because the gas stations of small companies can sell low-quality petrol. Or cheat with the price. For example, one day we klûnuli on the price on the scoreboard when charging the 1 gallon 10.50 salts, and after refueling it turned out that the sign does not change they already 3 months and gallon is already 12 salts.
Our friend's consumption is 2.3-3 liters per 100 km depending on the terrain.
By the way, you now have a unique opportunity to fill up our gas tank online:-) link map of our movement, the current location with information about altitude and temperature, as well as recent history of travel. You can move the trip icon and choose the number of liters of gasoline, which are ready to recharge, it is considered automatically. A big thanks to all the help and support!
Police in Peru
We stopped several times on stationary, checked the documents, asked where we're going and where, how long are in Peru. Nothing unusual happened.
And! Once police had stopped before the post payment (Marbella) and said that the US complained one bus driver that we type vilâli on the road. We already remove from outrage! Firstly, we do not vilâli before him, and went quietly on the right side of the strips at the curb. Secondly, the driver tried to shove us to the sidelines and actively enjoyed a hoot. Thirdly, free Strip overtaking-he preferred to go back and honk instead of safely overtake. In General-loony. Police listened to us and confirmed that drivers in Peru may be nervous and it is better to give them a free pass through to the sidelines. And wished us a good way. It was necessary to record company-carrier and bus number. Then you would complain to him, he would have anything figured out and other motorcyclists were calmer when meeting with this driver.
Road
If the road is paved in Peru it is most often of good quality. If you are in the mountains and with streamers, with smooth turns and extensions on the road. If single sideband in steep mountains, with pockets and warning signs about the need to honk before dangerous curves and tunnels.
If the road without asphalt, then you can wait for anything: and a thick layer of fine dust, slippery boulders, Brody, ruts, steep cliffs, sudden snow at an altitude of 4500. in General, the ride interesting! :)
How to sell a motorcycle in Peru
This section will be filled up, when it's the right time
Crossing borders on a motorcycle in South America
This section will be filled up, when it's the right time
Border Peru-Bolivia
Cross the Peruvian-bolivijskuju border on a motorcycle with Peruvian numbers is extremely difficult. We tried 3 times. In one case there was no border posts and stamps, we returned back to Peru. In the second case, the border was closed for several days for the holidays. In the third case in the southern Titicaca told us that you want to make a document in a private office across from customs, which is engaged in the import-export transport, but you need to pay $200 and get: help SUNARP (Certificado de Vehiculos Gravamen), certificate in Policia (Certificado de Gravamen). But these papers don't do at the border. They are made in a major city 1-2 weeks.
Peru-Chile Border
The intersection occurs rapidly for 1-2 hours. Issued when entering Chile temporary importation. When you fill in the customs declaration, be careful about the graph with fruit-vegetables. Cannot be imported fruits, vegetables, seeds, honey and other things. If you answer that you do not have them, and they will be on a scanner, you will have to pay a fine.
Our trip to Peru on a motorcycle is still ongoing and we don't know what will be crossing the borders with other countries, we do not know what is there insurance and traffic conditions, is there any road whether gasoline, are there people:-) The article will be updated as you learn new details.
Follow us here in our blog or on social networks:

A little video
Bonuses
1. In Peru the ATMs give maximum 700 salts or 200 dollars at a time. And like you can't withdraw more than 2000 salts per day. So bring cash in advance or or remove cards gradually. We found a pleasant thing that if you shoot in the BCP Bank Mastercard, the Commission for the withdrawal is not.
2. We noticed that cheaper-in the North of Peru. In particular-in the State of Amazonas. In this State, there are some tax incentives, so much lower prices, including and new motorcycles. For example, the same oil Yamaluble in Amazonas stands 18 salts per liter, in Uaraze (Ancash)-salts, and 25 in the city of Ica (near Nazca) 35.
3. Unlike Ecuador, on toll roads in Peru motorcyclists pay nothing, and pass at a special narrow strip to the right of all platil′nikov (Marbella).
4. Inexpensive accommodation can search and book in advance online at AirBnb (keep bonus 1300 rubles) If you wish to cosier and with the ability to pay by Visa or Mastercard or even Yandex.money (ask me and I will answer as). Either search on area institutions under signs Hostal Hospedaje, Accommodation. There are cheaper than in Hotel'âh. Meets a hot shower and sometimes even Wi-fi.
5. To eat cheap, lots of delicious see signs at restaurants and cafes with the title MENU is something like an integrated lunch. In the first big plate of soup or Ceviche, the second fish/meat/chicken and garnish with salatikom. And Compote. Worth 4-7 (1.5-2 $USD)
6. Unlike Chile, Peru does not yet have a law requiring motorcycle be abroad a maximum of 6 months. In Chile if after half a year is not returned, then you pay a fine. In Peru there is no such thing yet.
7. We purchased a Gps beacon Alpha-Lighthouse-thanks to him and are determined by the coordinates, altitude and temperature on our map in near real time. Advise and you get a similar device.
8. In Chile without Commission local bank you can withdraw money from ATMs of Bank Security and Banco Internacional-seldom seen, but it does not have to pay 4500-6000 Peso Commission, as other banks (this 450-600 USD).
9 in Chile there is a State Organization CNE (Comision Nacional de Energia), slaving over prices at the fuel stations. On their site or application for your Smartphone can be seen in any part of the country the cost of gasoline at any gas station.