Could you imagine a small town, whose streets are paved with cobblestones, and on the roofs of neatly laid tile? Where early morning filled with birdsong and Moos to cows, and every passerby's grandmother, stands with her speak to each other, ready to take you at home as her grandson? This place does not need to invent, it is. And is located in the territory of one of the most dangerous countries for Internet version-El Salvador.
Reportage prepared specifically for our friends Enjourney.ru.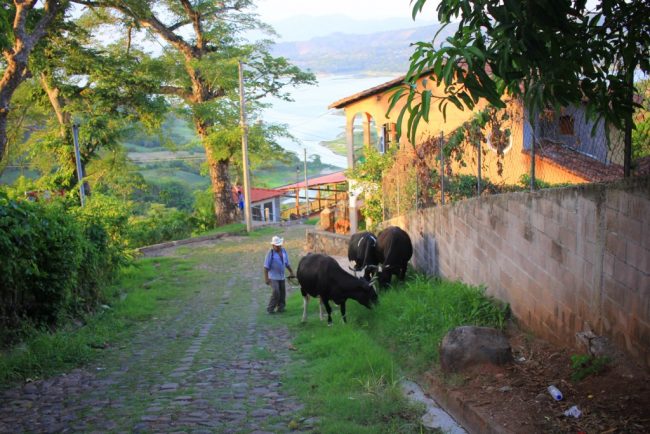 Quiet, peaceful Idyll on the high banks of the Sučitlan Lake, formed by a dam on the river Lempa, only occasionally disturbed sensation. However, the same peaceful, as daily life. It's either rural festivals and holidays, in which the small town of Suchitoto attracts guests of the capital; or the Queen of Spain visit Leticia that love and esteem especially here. And the Queen feels the gentle love of Suchitoto and is the principal Patron of the city.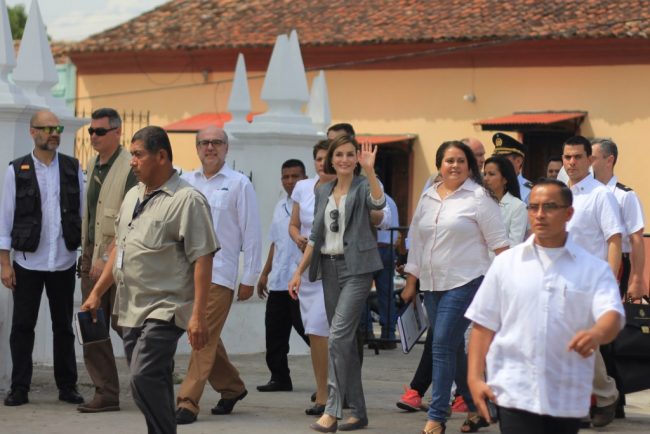 There is no night life. Sleeping bear with darkness and facing the Sun. Markets and shops-simple homes with homemade milk and curd are open from 6 am. And after dinner, people from the Center slowly spreads on houses and suburbs.
Striking geographical features either. There are filled with thousands of Selva birds, there are hollow, which seems to be covered with a sleepy spell-if you get to it disappearing in the forest cobbled Street, via a suspension bridge, you can go to topkim and viscous shores of the Lake. Low ridges of hills on the horizon in the evening break through the low clouds. And then the rain brings relief from heat, prevailing for most of the year. Oh yes, very close, there is an ancient basalt output in the form of a cascade of hexagonal pillars da hottest inconspicuous sources, eight kilometres away from the main square. But despite all this silence and calmness, where like something and nothing to do, both in life and in nature, the atmosphere is soft and very friendly.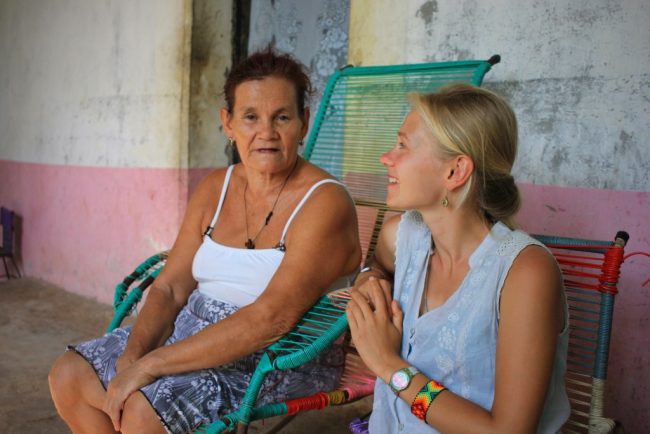 Here it goes your creature comes into harmony and joyful tranquility. Each Shopgirl feels obliged to entertain you: "well, try ice cream! Don't you want to? Can juice? " "Doña Maria, no longer can hold near nothing, thanks!" "No, you see! Wants nothing! "-with vexation breeds hands Doña María.
It's hard to believe that just recently this place almost has come to desolation! During the civil war, some a couple of decades ago, guerrillas based in the surrounding woods, the city went through bombing, in which now and then died a peaceful family. Witnesses of those events still convey the history of Word of mouth. "Once upon a time, during the next alarm, all women working in textile Manufactory (which is still alive, and is proudly local women) gathered in the sanctuary-an old hangar. And here, in the silence suddenly came crashing right through the roof dropped a huge bomb. Imagine it did not explode. It was a miracle. " Were miracles … And they will tell every counter, with whom zateeš′ conversation. But, nevertheless, every family has a loss. This has resulted in the 90-ies from several thousand in the town of only fifty families. And only 92-m after the establishment of peace, the city was recognized as the cultural heritage and its residents began slowly to return. Now skeletons decorate cafes and unexploded bombs hotelchyky.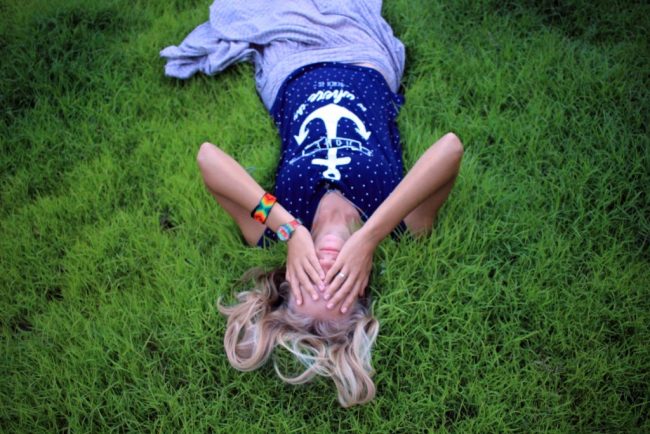 Sometimes you can hear like someone even calls Suchitoto cultural capital. And perhaps the word itself no capital coming to pâtnyšku tiny tiled roofs on the map, but the culture is present everywhere. Refuse bins for separate collection, art galleries (and the artists themselves, the remaining live here), careful attitude to colonial one-story domiškam, theatre, museums, coffee shops and the language itself which differs from other regions of special staromodnost′û and purity. And yet, Suchitoto, a place where you can find more coin Salvadorian Colón, in spite of the fact that in the course of long ago u.s. dollars.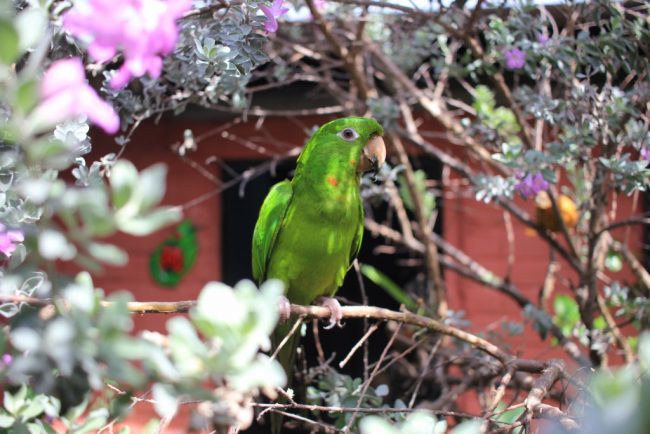 One lesson in Suchitoto is possible and necessary to safely surrender is familiarity with rustic food of El Salvador. The most delicious pupusy with spinach and garlic based on home-made cheese, which is imperative to eat with your hands, handmade sherbet of tamarind or BlackBerry, chicken soup, cooked on fire "smoky", an abundance of fruit cocktail, which shake up immediately-for you coffee prepared with skill-it's all here.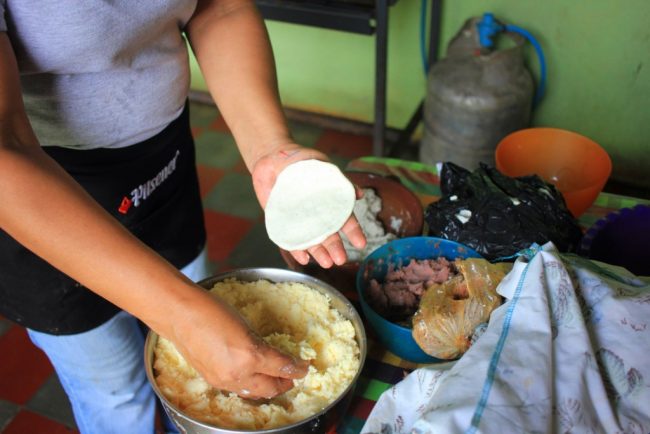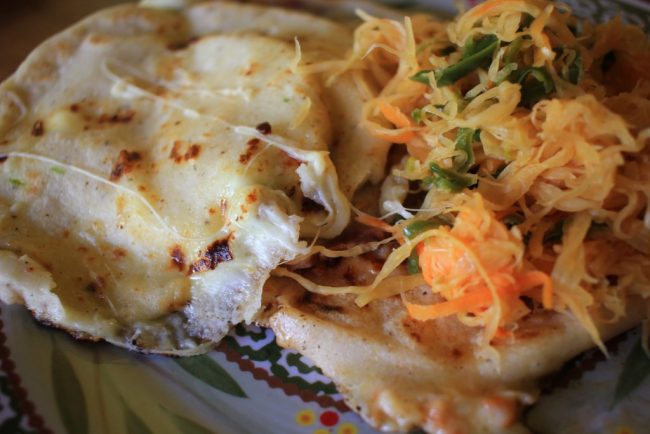 That's why a big mistake coming in Suchitoto, hitting one day to see something exciting and amazing. In this cute town need to come if you are tired of the road and long for delicious homemade food. This is the perfect place to relax and rejuvenate. Slowly, in a fun, swinging in a hammock overlooking the water surface of the Lake and the distant green hills, in anticipation of an evening storm, watching the morning birds, making a lazy stroll through the cobblestone streets of gently rolling streets, allocating time for conversations with passers-by. Thereby the most important feature-the wonderful atmosphere of this place.