Exactly where the Andes part and release in the Pastaza River Amazon jungle, in the shade of huge stratovolcanoes Tungurahua, in cozy small valley, similar to the Eagle's nest, lies the town of Baños de Agua Santa.
Reportage prepared specifically for our friends Enjourney.ru
This place is never empty. Gateway to Amazonia missed plenty of errant Indian tribes. Some of them settled, came new, conquering or expelling predecessors. Above all this hung Mama Tungurahua (so called this volcano worshipers Pachamama). Mama Tungurahua constantly made adjustments to human plans and rules of terrain it, sending hot lava flows and lahars, and ash clouds or vodvorââ peace and tranquility to troubled tectonic lands. Indians first appreciated feature of this Valley-one of the rocks turned out to be way out of hot thermal waters. Benefit from the mineral composition found immediately, and sources, simple Indians called simply and with love "ssan′em Mother Tungurauy".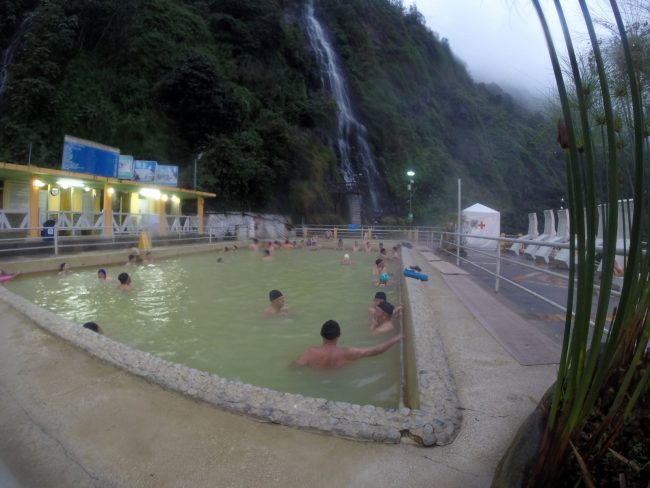 But once the monks appeared in the Valley of the Dominican order. One of them was the Virgin Mary and ordered to build a Basilica, and pointing to a source appraised the monk that henceforth it will cure a lot of ills. Thus began the history of the city. Sources were organized, named in honour of the Immaculate Virgin, and was erected in the Basilica, consecrated in honour of the Virgin Mary de Agua Santa. The baths were improved over time, and from time to time, the Basilica had to be rebuilt after fires from eruptions until at one point its not built their stone. Many times the Church sheltered residents saving from the clouds of ash troubled Tungurauy. And today, the main patron of the inhabitants of the Valley is a Pure Virgin.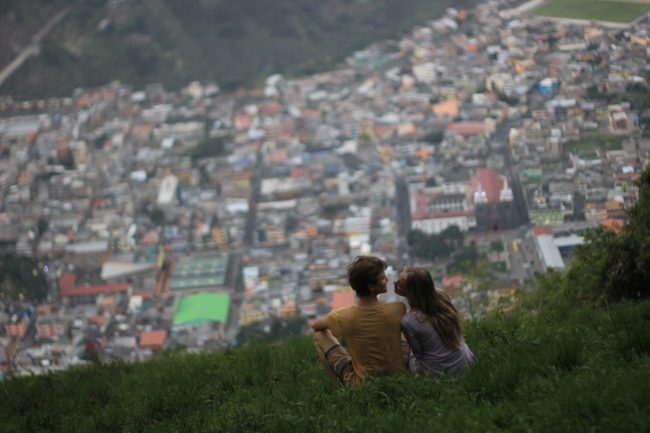 The town is popularly referred to simply as-Baños. And Baños-if a little piece of paradise lures everyone who visits Ecuador. Some lovers remain here if not forever, then for a very long time. From this city becomes cosmopolitan, cosmopolitan and friendly, somehow miraculously keeping its identity.
This is really paradise. Almost steep mountains surrounding an intimate Valley are used mainly for growing fruits and vegetables is the best place to meet with Ecuadorian fruit variety. Waterfalls and canyons, gorges and mountain rivers attract lovers of extreme-here is cheap and reliable. Nature lovers and mountain hikes, too, will find here a lot of joys-mountain trails abound, and from emerging species is breathtaking. It was here, on Ban′osom in the village of Runtun and hung the same swing to home on a tree-an unofficial symbol of Ecuador, known to everyone and not only bekpekeru. Here you can get acquainted with èkvadorianskim very peculiar coffee sitting on Ban′osom on the parapet a little Cafe on the edge of a wooded Ridge.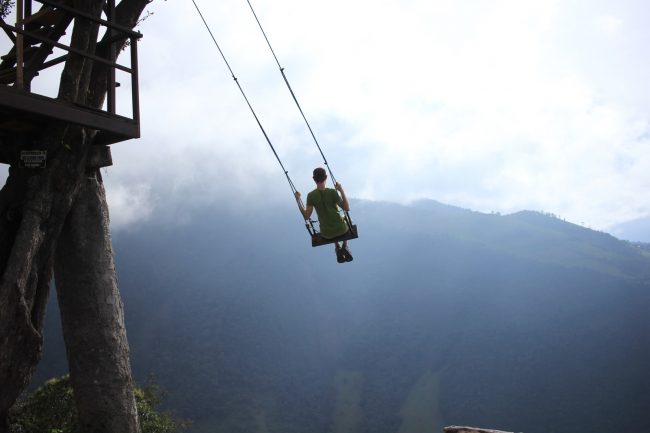 Ban′ose weather changes several times a day, the clouds go through the Valley, as cows, and lay down on the city at night, sheltering it as a blanket. Spring all year round. But sometimes … Sometimes there is something special. Over the past seventeen years the volcano Tungurahua erupts continuously. Continuously-it roughly every month for two to three weeks. And if you're lucky be in awakening, you will get an unforgettable experience. Almost sheer slopes adjacent allow virtually safely monitor the eruption, hear the ROAR and rustling pyroclastic emissions. For volcano monitoring is conducted, inform residents about possible dangers in advance. Enough pairs of walkers to familiarize yourself with the bullet and evacuation plans. All this provides almost completely safe stay at the foot of the great Mother Tungurauy.