In a number of countries to get visas and travel in the country require certificate confirming the availability of vaccination against yellow fever. For example, in South America, Bolivia is a country. And in General, for an overall calm, as their relatives-and worth making such a vaccine. Recently learned that in Russia it make for a fee, and in some countries of South America can be done for free. For example, you could make in Brazil and Colombia.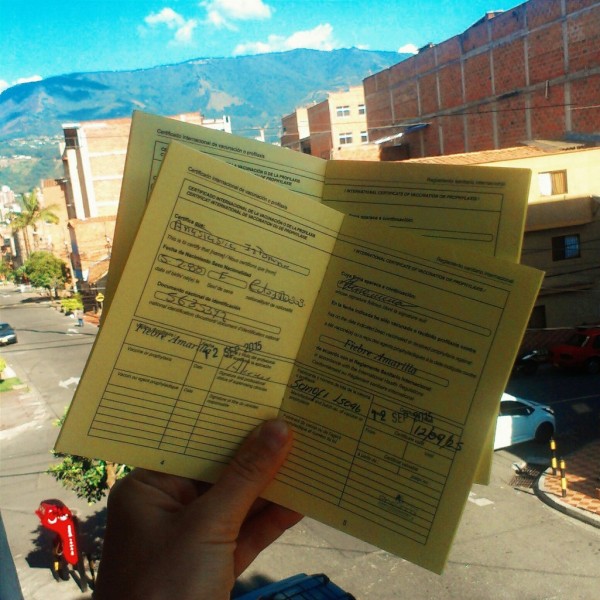 Vaccination against yellow fever in Medellín
In Medellín, vaccinated against yellow fever can be done at the address: Carrera 45 # 50-48, EdificioElDoral-consultorio, 203. If you go by bus, stopping Coonatra Circular el Palo-la Playa, how to get off the bus, then immediately there would be this place.
ATTENTION! On the day it is issued only 40 free vaccines. Opening at 7 am, recording starts in 7:30 and turn better hold with 5:30-6:00 in the morning. We arrived at 5:15 and for a long time were the first and only, the main people only began to come to 6:30. And our friend Lena came back as 5:30 and was already in the middle of the queue.
If you must bring your Passport.
Working hours: from Monday to Saturday.
Check whether you have contraindications to vaccination in advance on the Internet.
Vaccination against yellow fever in Bogota
In Bogota vaccinated against yellow fever can be done at the El Dorado International Airport, according to discussion on TripAdvisor. If you make such a vaccination at the airport in Bogota, please post in the comments on this post.
Also, on the official website of the airport written that free vaccinate against measles, rubella and tetanus. In Fontibon Hospital at the airport.
Working hours: from Monday to Sunday from 7 am to 7 pm. The tripadvizore write that from Monday to Friday from 9 to 5 with a break for lunch, and the Saturday before 2:00 day and Sunday is not working.
Learn, please what is the exact time and the precise location of the center of vaccination at the airport. We are grateful for such information.
Blogger Alice Nerr writes that "the airport of Bogota" El Dorado "(El Dorado Airport, Bogota) on the second floor to find Hospital Fontibon (rather inconspicuous entrance, on the same floor there is another hospital, which is easier to stumble, but vaccination will cost something around 20 u.s. dollars).
Vaccination is done in the shoulder almost painless. After day 3-4 better not to plan serious mountain hikes or physical exertion because may be unwell because of vaccinations.
You will be given a yellow book, which is worth keeping, because It is proof that the vaccination has been you made. Make a photocopy just in case and upload them to the Internet, suddenly needed.
Finally, give a link to a list of countries in which there is a risk of becoming infected, and in which vaccination is required for travelers: http://www.who.int/ith/ITH_Annex_I.pdf.
Travel and stay healthy!