Dar′ânskij space (Darian Gap)-territory, which still has no roads to connect Panama and Colombia. So far there are lost people. And some scare other different attempts: crocodiles, mafia, swamp … the list goes on.
However, we know of one young man, Misha from Russia, who a few months ago this week hiked this site and successfully proved in Colombia. It is true, then he was robbed in Venezuela nearly leaving with nothing. But still, it means that if you want, you can pass Dar′ânskij a space walk.
The bulk of the travelers enjoyed by plane. Other travelers cross the border differently:
1) free swim at passing boats (read blog Masha Svir),
2) in the same way as previously described for free and walk through the jungle
3) on bananovozah with likely drugs on board and with the fear that something may happen,
4) winter 2014-2015 season possible crossing Dar′ânskogo space on a huge liner FerryXpress, who drove passengers in 50-100 $, as well as their transportation: motorcycles, cars, and it was also inexpensive. But most of this liner does not go,
5) for about $ 150 in total for all the kukuruznike and then two small boats from island to island for 2-3 days reach Cartagena,
6) on a yacht tour for 3-5 days and 300-500 $.
We'll tell you exactly about finding cheap plane tickets. Back in 2013 in the beginning of the trip we wrote about how to find and buy cheap airline tickets and you can still use these instructions. The truth is that until recently, the local airlines do not identify in search. Some way and continue to be invisible, such as Vivacolumbia. But Airpanama has already appeared.
See what managed to find tickets at Skyscanner: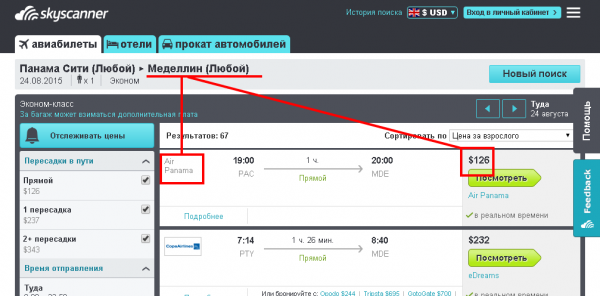 It is these tickets we bought from Nastya for crossing the border. $ 126 per person with all fees, exit and entry taxes. The same tickets there and at Aviasales. On the site itself Airpanama the price is exactly the same, but less convenient. Need to change the date because the search only works on one date.
So, $ 126-minimum fare for crossing the border by air today. We followed the prices three months and they have not changed. Always had these tickets.
Another thing that you can try to find tickets even cheaper. To do this, visit the website Vivacolumbia. They are not in any aggregator. But they are sold out! For example, if you take the ticket back and forth, the cost could be in the region of $ 150. Sometimes they come in such shares, that the final cost of the one-way ticket is about 70-90 $. But we need to constantly be on the lookout. If you saw a good price, it is necessary to take the tickets immediately! By the end of the day the sale may suddenly end. Still it happens that night tickets cheaper than during the day.
The second point-can not take place on Russian payment card. On the sites of Latin American Airlines in the form where you specify from where and to where we first saw the field where it was necessary to specify their nationality. I.e. for foreigners they have default tickets more expensive. Our friend had to take the help of their friends, living in the United States, that they paid for the ticket with their cards. And in the end he did got a cheap ticket.
There are sales of airline Avianca.
Useful to subscribe to the mailing list, which sends out almost every airline that makes sales. Then you post one of the first to know about new promotions.
Happy hunting for cheap tickets! :) Travel, friends!