Borders in Central America is something interesting! It is difficult to understand whether you cheat or customs fees on the border-official taxes. But more often than not it can allow a very simple question: "give us an official paper stating the amount of the fee.
All the features of border crossing by land in Central America we will tell you by example. All the way we have done in 2014-2015, information relevant at this time.
So, let's get to adventure! :)
United States-Mexico Border
As we walked from San Diego (United States) in Tijuana (Mexico), on the border had no control. The only big wall, turnstile, many local people and military.
Immediately after crossing we found a small room in which the idea could put the necessary us stamps, but a border guard sent us to the airport, probubniv, that we cannot do this.
We have had a passport with an American visa, so we could cross the border on special rules: on the Internet says that the Russians do not need a visa and electronic authorization, if there's an American visa. If the Russians do not have such visas, they need to make electronic authorization before arrival in Mexico. On the ground with electronic permission does not move.
It turns out that when you land from United States all tourists should arrive at the airport in Tijuana, where for $ 28 give a migration card and stamp.
We are confident that we no need to pay for (we are Russians), raised on the ears of administrators and officers of airport. In the end, still paid.
Migracionku to lose! Otherwise we will have to pay again. Although they all and passes through the computer. Bureaucracy. A lot of tourists lose their migration cards and Treasury double income.
Border Mexico-Belize
We were in Mexico six months and we had to renew my visa, i.e. "make a visa-run". Decided to try through Belize to move next to Četumalem, because it was closer to our former place of residence.
The transition represents a bridge where one side of the Mexican border and on the other the neutral zone.
First on the Mexican side, we waited for about two hours, proving that already paid $ 28 when entered: on hand were both receipts and migracionki. With us just brazenly wanted more money. During these two days, we saw how to make visa-wounds of various Ex-Pats. They arrive by taxi, light. Their lead over the booth, they pay 250-300 dollars for a visa extension, a little wait until Belize will stamp and leaving. We wanted to do everything honestly, so sought. And then came the new officer and with the words "If you want to return, you can make it through 3 days". Then there is this official information for those who want to take a trip to Belize and back.
We passed the bridge, went into the neutral zone, eat a little and went back through another new bridge, where Miss machine. But there were already waiting for us with our names on a piece of paper. And held in a special booth to the special officer who explained that we cannot enter into Mexico, not after spending 3 days in Belize. After much cajoling, what we in Belize does not need now, we put stamps and said next time not to do it.
If you will need a visa-run, then make it better through Guatemala. They say that there is easier.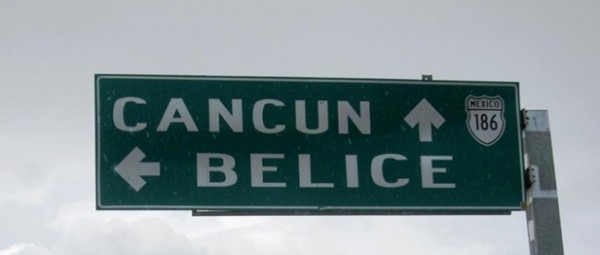 Border Mexico-Guatemala
Transition Of Corozal. We reached the River, at the entrance to the village of Corozal paying lakandonam a small amount (2-3 $) for visiting their border village (crazy!). In the migration window put stamps on departure fortunately without paying anything. Then pay oarsmen for the Usumacinta River crossing between Guatemala and Mexico. The cost of ferrying around $ 5, unfortunately, don't remember exactly.
On the Guatemalan side-surprise! There are no guards, no even booths. Only a small village, gravel terrible road and a small bus that can take to the town of Libertad. Along the way, the bus makes a stop at the guards, who keep the booth just to gravel road somewhere in half an hour's drive from the border. There we were asked to pay 40 quetzales (about $ 5), but when we asked the official paper confirming the legality of the collection, the border guards threatened that upon departure we will pay a penalty if they do not pay. At this time the bus fiercely bibikaet, implying that all passengers are waiting for us!
As a result, the border guards have put us stamp after its threats and we left without paying them a cent. On that day us explainer hostel bedbugs on Flores, interestingly, is the work of pograncov? ))
Guatemala-El Salvador Border
Transition Aduana. The easiest transition. From the capital, Guatemala City, go cheap buses (chicken-bass) to the town of Villa minibasy, Nuevo, and from there to the border. On leaving nothing to pay, passport stamps is not put. On one side of the bridge give a piece of paper with a stamp about leaving her to pass the border guards on the Salvadoran side of the bridge.
In El Salvador, very cheap buses!
El Salvador-Honduras Border
Shift El Amatillo. At the exit stamp on a piece of paper, paper pull the bridge at the entrance to the Salvadoran border police, and in Honduras, you encounter numerous helpers, which lead to the Honduran border guards. You will be asked to pay $ 3 per person will be given a receipt. Immediately Uncle himself in the pocket of the vanities 3 dollars, and other 3 somewhere relates. Looks suspiciously) OK, we go further.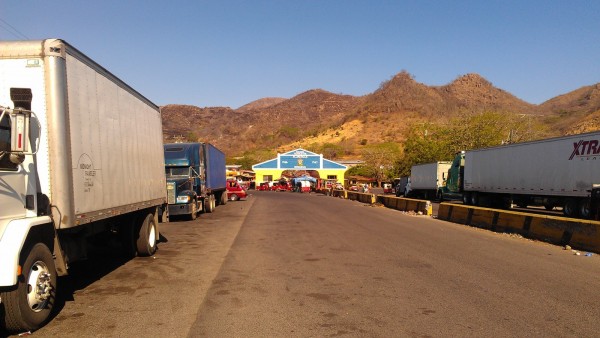 Honduras-Nicaragua Border
Transition Guasaule. Muddy border. From the Nicaragua looks civil′nee than by Honduras. In Honduras, most of all, helpers offer for a fee to the queue. Kind of payment was $ 2 for leaving the country. Not exactly remember. In Nicaragua the fee is $ 12. Check the $ 10. Where 2 go is unclear, because cheque we checked after they departed from the border. It is possible that they charge $ 2 per cheque:)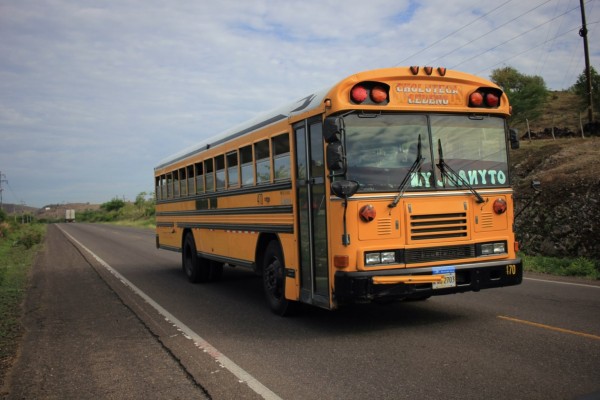 Nicaragua-Costa Rica Border
Transition Of Peñas Blancas. On the Nicaraguan side of the need to pay $ 2 per exit. Then walk a bit to go through the neutral zone to Costa Ricans. We didn't want to let in Costa Rica, because We didn't have hands on tickets from Costa Rica to Panama. Were only tickets from Panama to Colombia, but they were few. The experience of our friends who also had tickets, we assumed that we will put a stamp on 10 days. However, this is not too like to do. Uprâmilis′.
Offered to buy a bus ticket, but all cash desks were closed Sunday evening. In the end, after two hours we did a stamp when it is already harmful head dumped. And this stamp was for 90 days!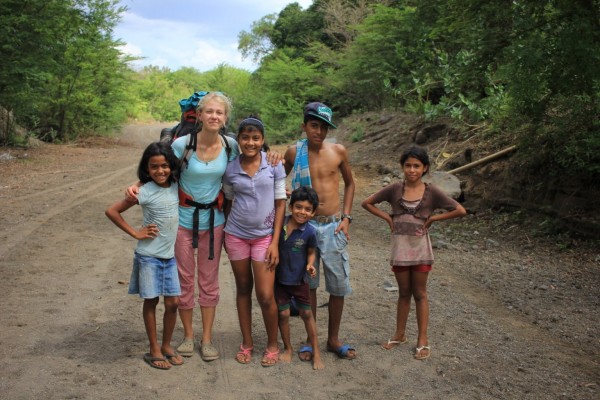 Costa Rica-Panama Border
Transition Sixaola. Another bridge, another border. Yet another bureaucratic madness. On the Costa Rican side pomogaly may take place, where you have to pay cash dollars for leaving the country. There will be given a receipt which you should arrive at the immigration booth. And the migration there is a kiosk Terminal, in which also you can pay, but only card. The terminal payment is $ 7. Cash you need to pay $ 8.
BUT THERE IS ONE BUT!
We paid card, thinking that it is cheaper. Terminal No commissions didn't say no warning not issued, it scans the Passport takes charge and gives a receipt in $ 7. But be aware that your bank začtet this transaction as a cash withdrawal from ATMs. Therefore, withdraw his Commission. Because We have stremnyj Vtb24 Bank, we have removed the person not $ 7, and 17 $! And this we learned only a few days later, appearing on the Internet. Talk with customer service turned up nothing. And no matter what terminal we cash has not issued.
Then turn the old iron footbridge and the Panamanian side first looking for the migration Division somewhere among the Duty Free shops, put the stamps on the entry. Border guards stamped only if you have return tickets from Panama to another country. Then we go up on the Hill and in another booth for $ 4 buy stickers in the Passport.
Why, why? It is not clear. But four bucks will have to pay. We were told that the same fee and at the check-out.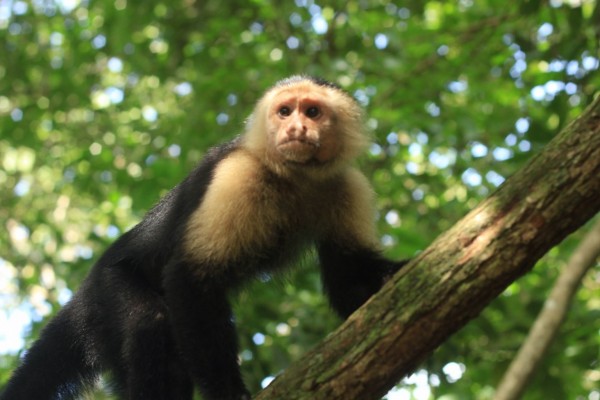 Border Costa Rica-Colombia
Tell you about it later.