In preparation for our little hike, I tried to find some information about the National Park and the Pacaya volcano.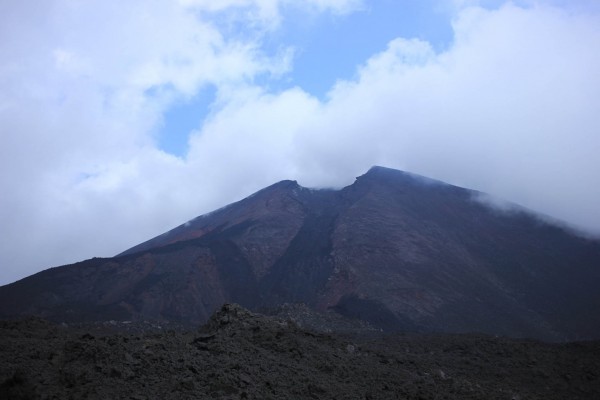 Volcano Pacaya enough known, active, continuously thrown up the past 30 years. Just a couple of years ago due to the next erupting capital airport was closed, the Guatemala City covered with a thick layer of ash, and the crater and then suffered or perished naïve adventurers-tourists and reporters who from sudden explosions of gases. After the eruption of the volcano drifted off and huge lava fields and accumulate began inevitably to cool. And that's when was the Golden time-hot lava and relative safety!
Russian tourists, too, on the slopes of Pakaji from a lot, and I had hoped that at least one of them did it without a guide, and it would be really cool if this year. Can bad was looking for, but the eyes come across reports that either started something like this: "climbing the Pacaya volcano starts from the city of Antigua ...", or "Pacaya Volcano is located in the city of Antigua …", or five-three-two-year-old. Described the tracks in our 2015-m values too special not represented and does not answer the key question: is it still possible to find in the park bench). Decided to check things out for yourself.
It was decided to start training with intelligence-whether the climb in national park dangerously, as reported by tour operators and, in consequence, Word travel radio? The best in such cases, the search sites, leading reporting on the status of volcanoes in varying terrain (such as United States website http://volcnoes.usgs.gov), but in Guatemala this public site has been identified (which is odd-in the territory of a small country (just over one hundred thousand square kilometers) is more than 30-minute active volcanoes), but in the process of finding the site, they found each of our Guatemalan friend Tito-conqueror of volcanoes and not only that assured that now is absolutely safe and calm Pacaya.
In one of the English-language sites was found clue report, it referred to an alternate route, unpopular among tour operators (it's long), passing along the slope of the second highest cone system Pacaya-Mack Kenny. Then, in the action programme-GoogleEarth went incredibly convenient and practical thing. Clearly visible on satellite images of the trail through the body of the volcano, perfectly visible terrain with elevation. Scoring of sample coordinates points (entries for trails, the border of the forest, likely parking), we have completed collecting Backpacks:) According to tradition, the list of compulsory included boots, waterproof jackets, knife, flashlight, torch with a Cup. The benefit of that unnecessary on Mount things could keep Tito! Walk light-what could be better!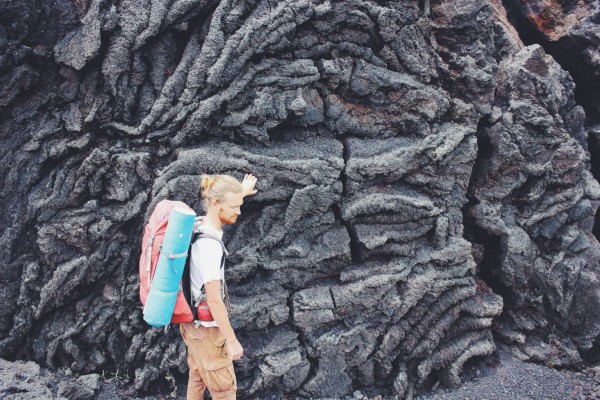 Volcano Pacaya relatively low-height of its total 2552 m (Cone Mack Kenny 2520 m). Its value is not in height, trails enough comfort and nenaprâžnye. The establishment of the main cone is in the process, for which we can all observe. According to Wikipedia-this is one of the most active volcanoes on the planet and it is in this and is essentially places! We longed for to find more hot lava, but, unfortunately, not found it. There are several hot holes, lava gatherings, but they are quite small. Guatemalan authorities officially upgrade to žerlu is prohibited, but physically hindered only burnt banners down at an altitude of about 2300. There are several trails leading to bypass the lava slopes. The crater itself is easily visible with serevo-western slope, mouth looks exactly the same as those of many other sleeping volcanoes-peacefully:)-a little sulfur stains and small streams of gases. Already on the volcano have decided not to go up to him.
Through the National Park goes gravel road connecting Lake Amatitlán and the village of San Vicente. Several villages scattered along its length. From one of them begins the official route, used by tour operators. At the entrance there is a ticket office, where you can pay the park entrance and tour guide (the entrance to the National Park of 50 quetzales, guide about 100-150 quetzales). We decided to bypass this item due to saving money and ease the route. If there Navigator, then get lost there extremely difficult.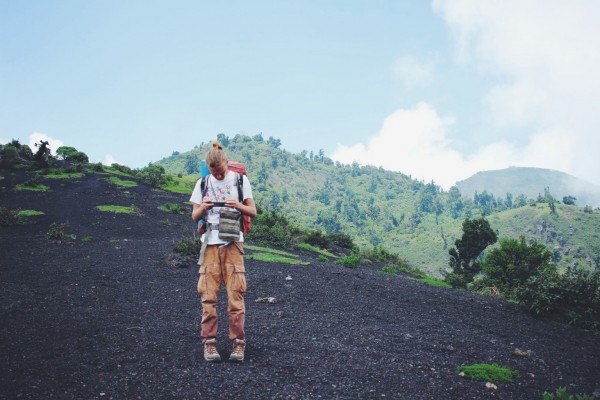 The second entry selected the official trail (it is almost never used by tourists), which is located near the beautiful Lake Laguna de Calderas (it is said that the water in this lake is always warm due to volcanic activity). From the eastern tip of Lake Amatitlán we were fortunate enough to zastopit′ a couple of adventurers. First, they offered to take us to the Pacaya National Park through the town of Amatitlán. Hook was 25 kilometers, we gave up.
-And how do you want to get there?! says Vladimir.
-After a couple of kilometres will be a crossroads, we want to go on this small road!
-I do not know the road she hardly there.
-No, for sure! Here's a look (Show map) just 10 kilometers.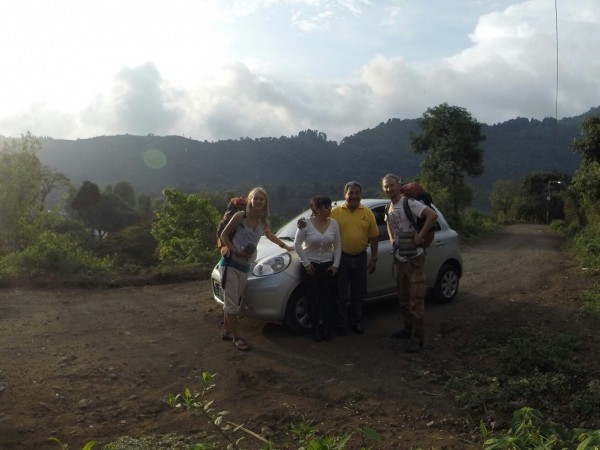 Vladimir consults with his wife and tells us:
-Let's go! Want to learn this way!
-But it can be bad! -We got worried.
-Let's go! I just wanted to show the Lake wife!
Vladimir (accent on second and) the Pope named in honor. And the full name it sounds like Vladimir Lenin Molina. Udružil dad))
The heat said goodbye with adventurers, getting even and a pack of Guatemalan coffee as a gift, we resolutely turned on the box trail, nyrâûŝuû between houses (coordinates input: 14.4078-90.5926).
People in these places to tourists accustomed to (but obviously not such Savages as we:)). At first, thinking that we get lost, they are merely greeted and joked: "Hellow!" (loud laughter of children). Then began to aggressively deploy "you to the volcano? It's on! There are no trails here! " (waving aside the official entrance two kilometers). We have explained that we know where to go, what's on the map of our (and this was the purest truth) trail is! "We go on nature! We need another Cone! Thank you! ". Explanation began to heal, children crowd ran behind us telling each adult that we "lost". And now, finally, the House ended, corn fields. Our children-spies began to lag behind, leaving alone with clouds and trail (trail goes along the fields, but when they end it's worth choosing the right povorotik to move to a more nahožennuû and driven). Lake in the Caldera and the village began to slowly shrink, the clouds became larger and heavier, they seemed lazily tunnel through the ridge and they waited.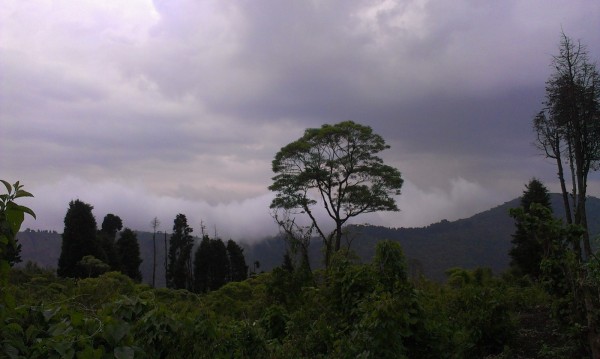 It got dark quickly. The trail is very comfortable, soft, utoptannaâ horses, led up and up now through the forest. However, there were stretches of the bridge and they were able to rest a little in walking (I recall with horror the Atitlan:) and clogged the muscles). In the forest began to be lonely horse, initially, creepy us pugavšie his loud breathing in the dark and luminous eyes. But then, we are accustomed to them, meet them it was joyful. Where trees have become lower, at one of the cosy ploŝadočke on the slope of the Mack Kenny, decided to stay the night with night view of Guatemala. Stand planned before dawn to go to Pakajû and search for dark lava, but it didn't work-very good and bad, and yes the previous day was too long and eventful. In the morning, found that all three are clearly visible giant located not so far.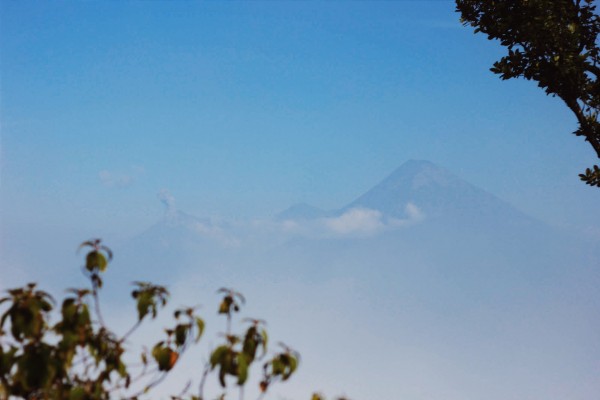 It's the volcanoes Agua, Acatenango and Fuego. Agua was the cap of clouds and dense clouds of smoke produced Fuego. Now we have reviewed them and on the other hand!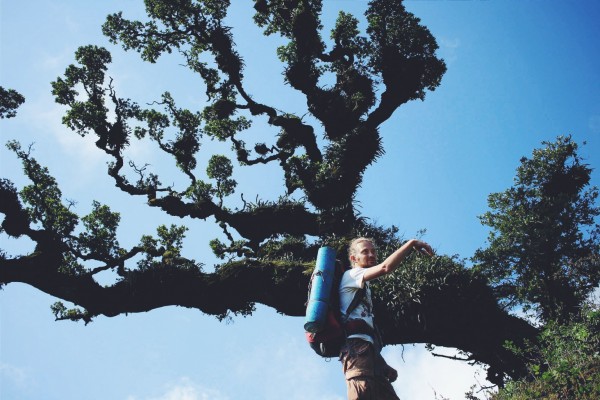 After leaving the parking lot, we went further, Navigator forgot to enjoy wandering through the forest, and then vyvalivaâs′ on mating and inspection cone Mack Kenny. Considered further two Caldera, bottoms that fill the meadows. All slopes and mating horses proceed everywhere their enigmatic trails.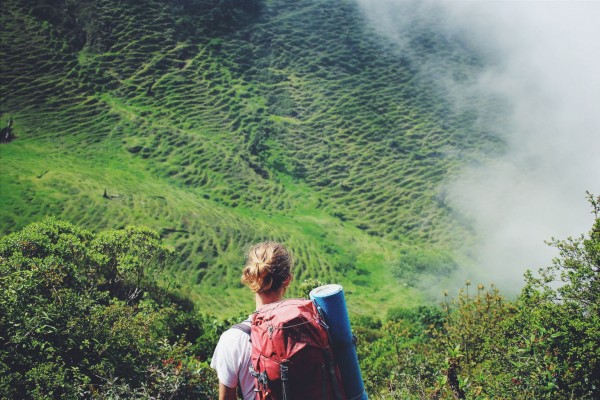 We decided to choose almost at random and come to the picturesque saddle horses and poludikimi with views of the Deathly Pakaji cone.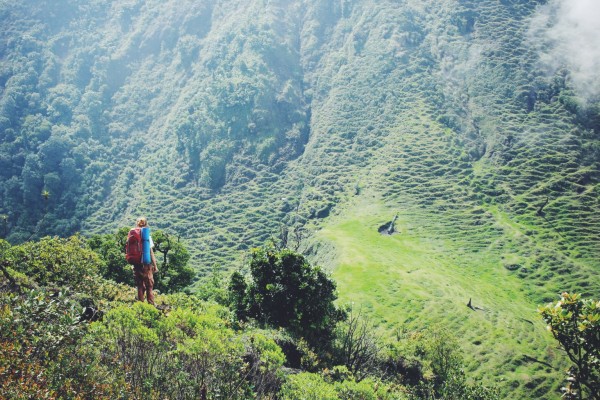 Having enjoyed plenty of deserted "backyard", after breakfast, took a course on the tourist trail, to get closer to the lava sinks (we had with a sausage in case of detection of hot:)) and Scout point on our map called Lava Cave Sauna.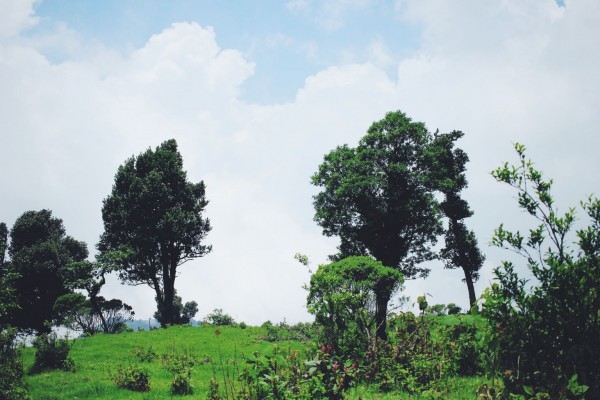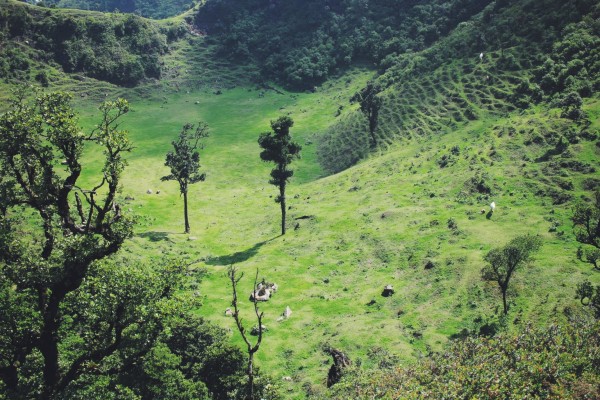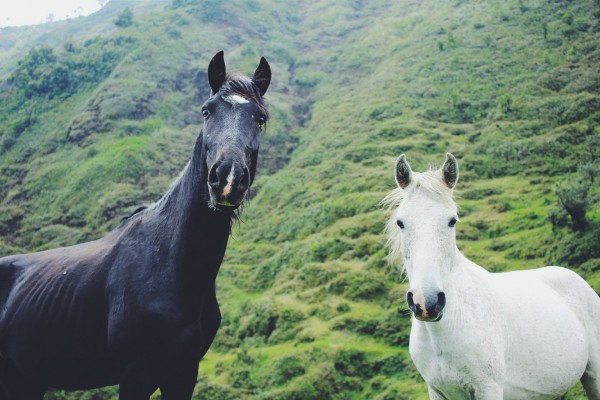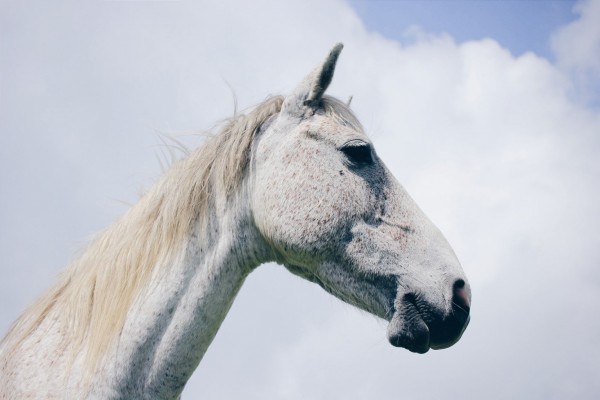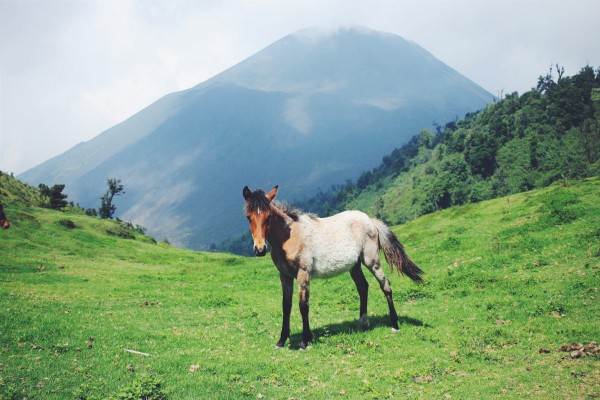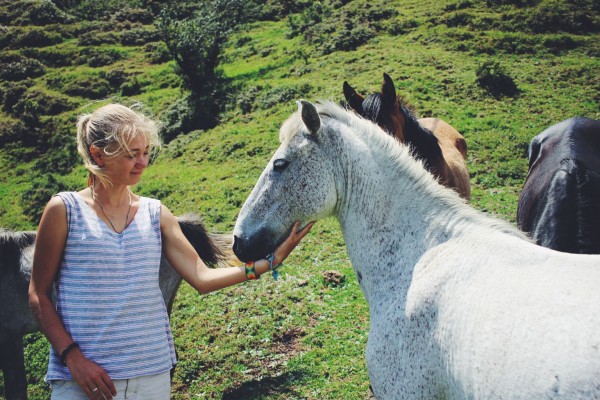 Started lodges-shelters Ranger, privacy was over and we were among the tourists. From one of the groups moved to us yellow stray dog. She pretended that the long-waited for us and on went with us. Path to the cave two years ago has overflowed the lava flow, which had to be overcome. Stones are very sharp and teetering. Us-it was okay, but the dog started and then fall through. Solved it regret-Nikita went out the cave (200-300 meters remained), and I was left with the dog.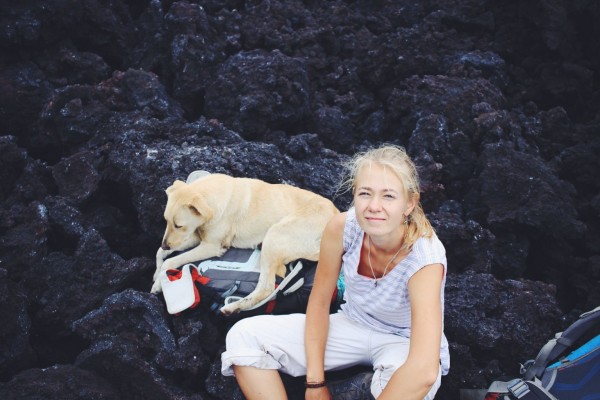 Long we psinoj looked like Figure Nikitina decreases suddenly dog got worried, began trying to go for Nikita, whine and wail. Paws she failed between the stones and she returned. Here I am worried! And once the clouds parted, I started screaming and waving: "come back!". By this time, Nikita has already managed to find the cave, wanted to go further, but my cry it stopped).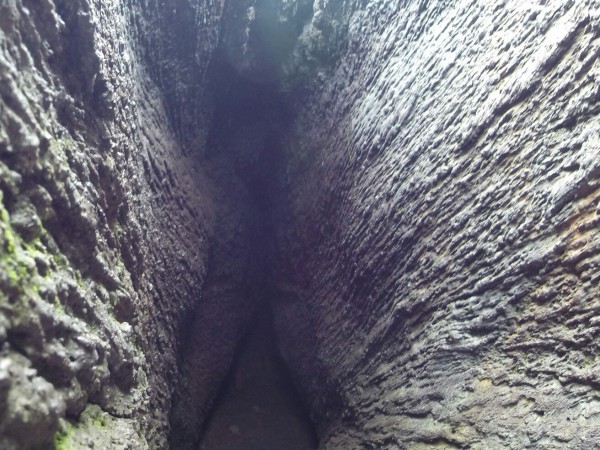 Where the trail ended and started the road (coordinates: 14.3934-90.6106), we have arranged a small halt, splitting a meal with a dog. The employee some towers (their forest) offered to prepare coffee on his electric burner, rather than suffer the wind with our spirit. We drank coffee and watched as thunderstorms then hide, show the volcano Agua.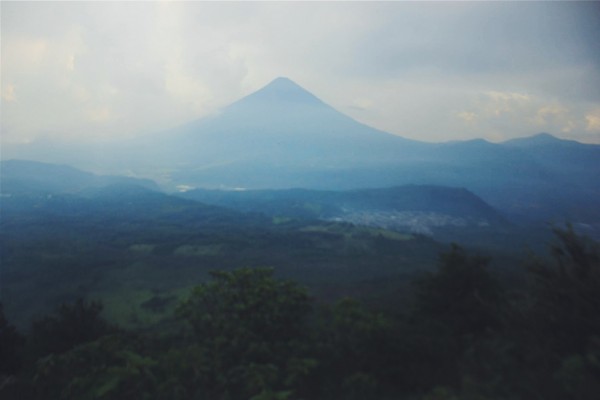 What is he huge! And more … further was descent and farewell to quite our dog …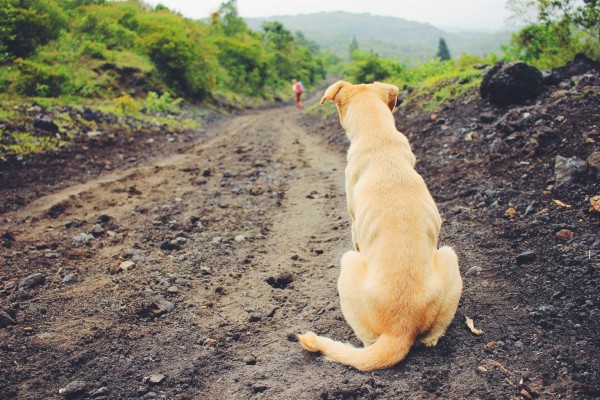 And now we miss it! If you see a light yellow dog on Pakaje-be sure to pass the Hello, and even better-buy bread or sausage!:)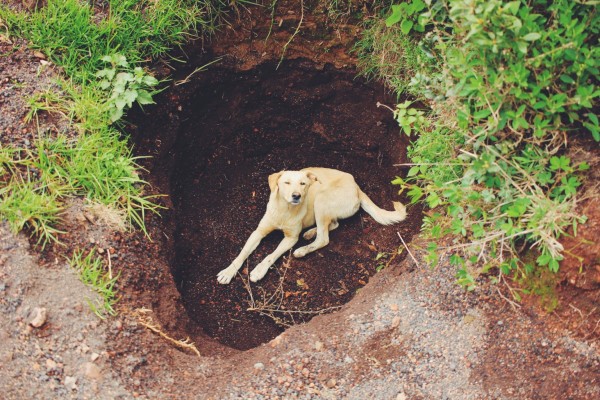 The last bus on the road to civilization comes in 5-5.20 pm but stop ofigennej and faster!