How to publish a photo of the instagrama on its wall vkontakte-can find information anyone who knows what is Google. And here's how to make an automatic import of photos from instagram.com on the wall group vkontakte-here the task more difficult.
At first I enjoyed the schema will describe below. It is not flexible, fast, not for her work requires a lot of server resources and time, attention. But it is working.
Tired of the listed flaws, I decided to create its own service. It was started in the year 2015. It is called Onemorepost.ru-a tool for importing photos from instagrama OpenID and other social networks. If you want fast repostov with flexible settings, no problems with tokens and the creation of applications, I invite you to Onemorepost.ru.

If you want to configure everything yourself, spending on this day, Wellcome to the instruction below.
Instruction on our instagram.com/soundaroundme channel and our group vkontakte how do krosspost photos from vkontakte group via instagram
One way-using the API and API instagram.com vk.com, make your own implementation of avtopostinga via instagram VK group photos. I went to a different path, which details the steps here and tell.
What we need:
1. The ready group vkontakte.
2. Instagram account ready.
3. Site with wordpress.
If you want to do everything themselves, can for example take hosting for 100-150 rubles. per month (if you don't have your own server), install WordPress and use the following steps.
Step 1.
Install the plugin NextScripts: Social Networks Auto-Poster. (C) the message will fall from Armenia on behalf of the Group of OpenID. By the way, you can also configure automatic export to other social networks: Facebook, Twitter, Google + Blogger, Tumblr, Flickr, LiveJournal, YouTube and others.
After installing the plugin and activate it go to settings. Add a new social network-> vkontakte. Further settings page looks like this: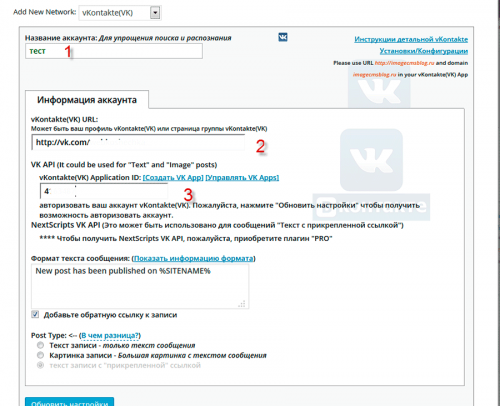 Do everything as written there every point: create application vkontakte, enter its ID, and then save the settings, open them again, avtorizuem the application, clicking on the link, then paste the URL, draw post as needed, click on the green button "send a test entry in vKontakte". You should see a message that everything is OK, and in our group has a new message.
Congratulations, the first stage is completed! Now all the posts from your blog will fall into group vkontakte.
Step 2. How to bind to a group via instagram contact using wordpress
Download and install any plugin to import from instagrama. For example, InstaTeam DsgnWrks Importer Instagram Instagram Importer or TD Instagram Import. Choose the one that more you like. Plugin needed for krossposta photos from instagrama in our blog. Do not forget to activate the plugin and go to settings.
Create an application in instagram, copy the data API. Connect your account Instagram. We make post how he will have you on the blog. You can add multiple accounts, only export photos on the chosen tag.
Ideally everything should earn-pictures come from instagrama, fast blog, and blog posts posted on a wall in vkontakte. Repost of instagrama VK group occurs. But why not the photos themselves, as you can see by looking at their group. Posts there, the text is, links, and photo No. What should I do? Need a third plugin!
Step 3
In the previous post status preferences plugin set "Pending" to post not published automatically, and was in the process of approval you have in the admin area of your blog.
Install and activate the plugin Auto Post Scheduler. He needs to published posts with a little delay. Thus there will be photos. Go to the settings.
I have "Auto Post" Schedule "stands on 1000 seconds. Don't forget to "Eligible Post Statuses?" put on "Pending". "Number of Posts" I put on 1 to not more than one photo published.
And that's all! Congrats! Photos should automatically repostit′sâ of instagrama in your group vkontakte with a slight delay, depending on the settings you have issued.
Make sure that your customized blog is constantly visiting, because otherwise we will have to set a Cron job for automatic publishing of posts.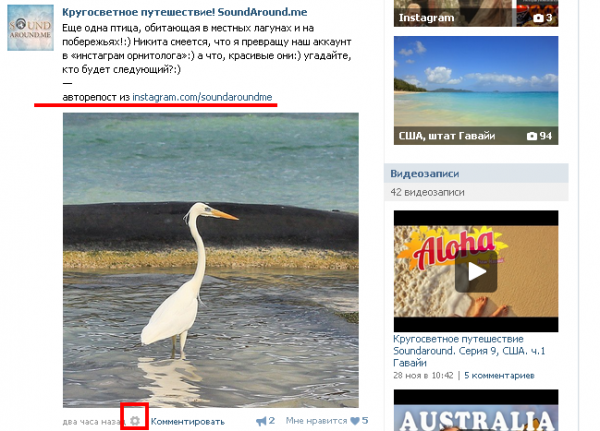 If you repost the images need, and everything above written hard or do not have a blog on wordpress
If you don't have a hosting with wordpress or you don't want to bother with this, step on Onemorepost.ru-there you can customize your channel for 5 minutes.
If you helped this instruction, you can support our trip around the world. From us expressive look of true gratitude each:)