Driving on the northern edge of Pennsylvania, along Lake Erie (one of the five Great Lakes), we suddenly saw the banner: "The State of Ohio Welcomes You!". To avoid having to turn south, we decided that in this state we will find that without which it's probably impossible to imagine America.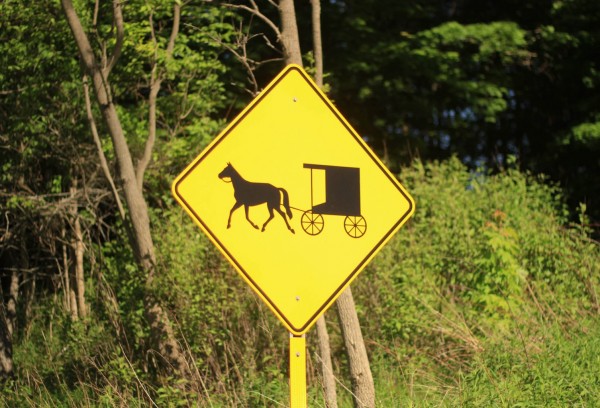 The internet connection was bad, and we didn't feel like searching for a McDonald's and sit there for hours. So we decided that we will conduct our own research right in the "field". For this we needed to turn off the main highway (Hwy 90) onto a road, and then from the road onto a street… And finally onto a country road. On the map they are marked by white lines, but in reality they can be either cement or gravel—depends on your luck.
We were looking for an Amish village. We didn't know the names of any of their villages, and so our reference point was a strange site on the map called "Amish Church Historical". The thing is, the Amish are a Christian sect. They originated in Germany (some of them in Holland), were severely persecuted for apostasy, and found refuge in America. The main Amish sect does not have churches; they hold Sunday services in houses—in different ones every week. That is why the "historical" point attracted us. We had 20 miles of country road to get there.
The peculiarity of these people is that they still comply with strict rules. For example, they do not use electricity or cars for personal purpose, have a specific dress code, talk amongst each other in a Pennsylvanian dialect of German, practice endogamy, use sustainable farming, etc. At the same time, their life isn't entirely exclusive. According to their rules, the Amish villages don't have well defined borders, and you can stumble upon houses of those who are not Amish there. They also actively sell their products to anyone who is interested.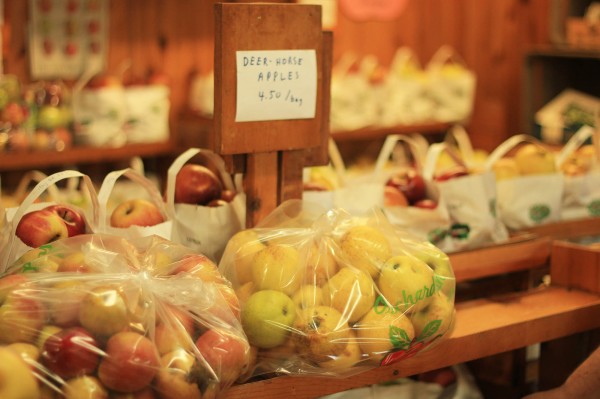 Their non-alcoholic apple cider, the apples themselves, maple syrup, and the many types of jam, cheese, milk products, and handmade goods are famous not only in those states where they live but around the entire country. Though not always proven, but the word "Amish" on a packaging label of, say, cheese is a kind of recommendation of quality. But besides all this, their own way of life itself gained them considerable fame and made them an unofficial tourist attraction.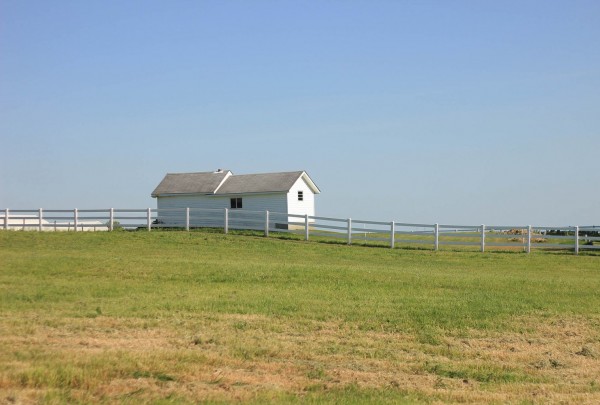 "The Amish are the nicest people!", assured us an old man at the flea market in Burton. "Oo! They gladly talk with tourists! They can show you their home and even how they live! Only right now all their stores are already closed, but tomorrow— tomorrow you can see everything for yourselves!"
It was Saturday, and in 3 hours the day already passed. "Go to Middlefield, that's the center of their village", cried the old man after us. But.. Our white road was calling to us and we turned off much sooner!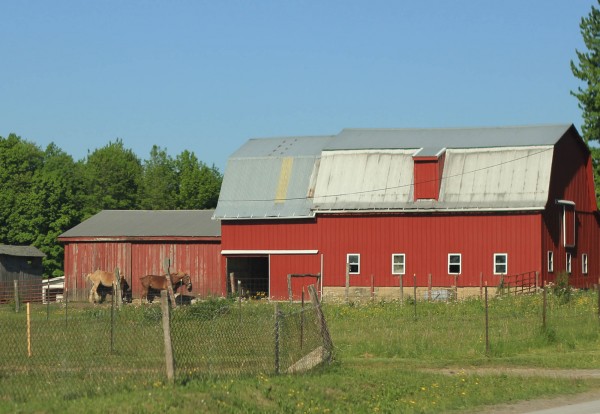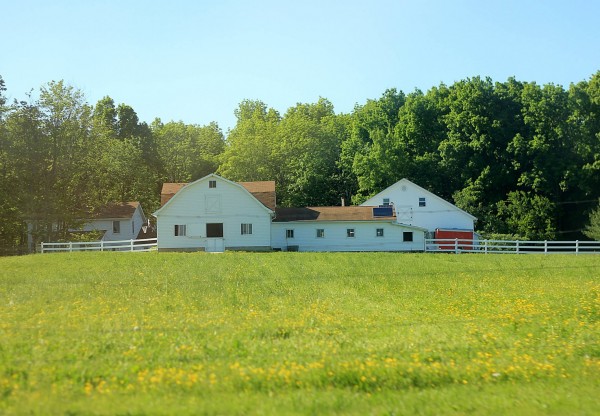 As soon as we turned off, the American flags disappeared from the houses, and the scene was filled with tall barns and sheds, neat pastures, cozy front yards of large, but simple homes. Well-fed and well-groomed horses. Soon enough the residents themselves began to be seen. A boy sleeping on the grass right in front of a house (as expected—blue pants and a straw hat laying nearby), a man tying bales of hay (also as expected—long beard, shaven mustache), and then one after another came the carts… And finally the women; the real Deutsch Ladies! White bonnets, blue dresses, rosy cheeks and bright faces.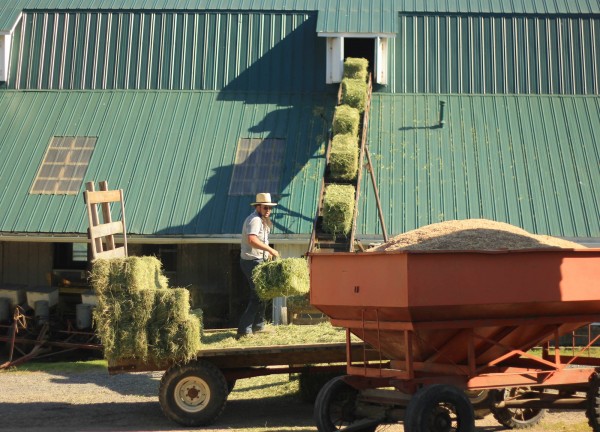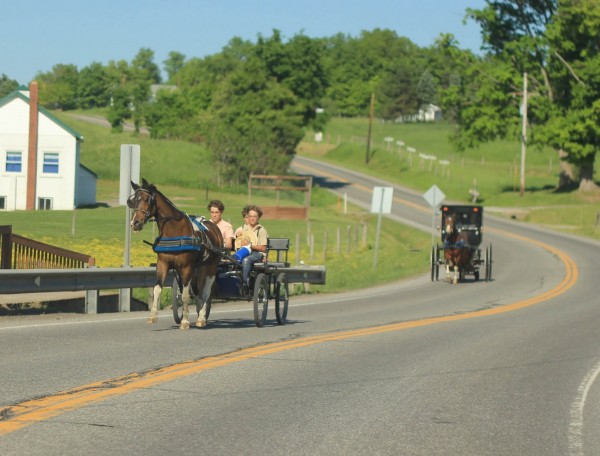 Closer to sunset, when the sun became golden and soft, the appearance of all this rural scenery seemed especially idyllic. We drove aimlessly, stopped when something seemed particularly interesting, greeted the residents, and felt a mild euphoria.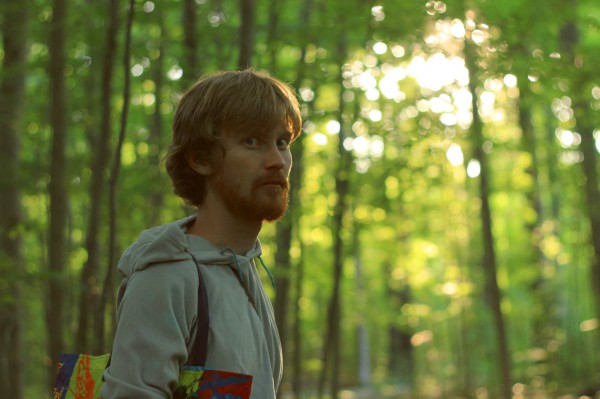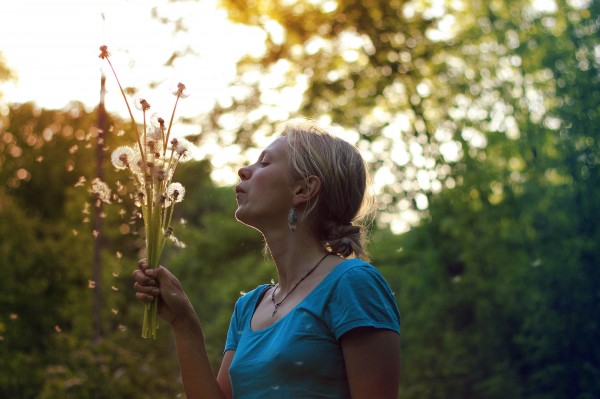 Large houses without electricity, wood stoves, barefooted children, hay in neat bales, horses and cows, the smell of grass and flowering trees, and the theoretical knowledge of the "nicest
people" slightly intoxicated us… :)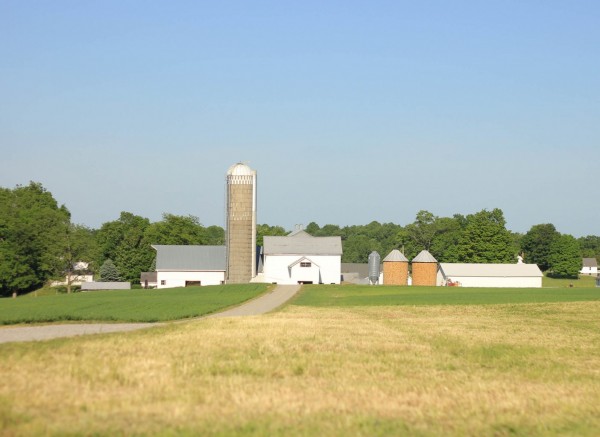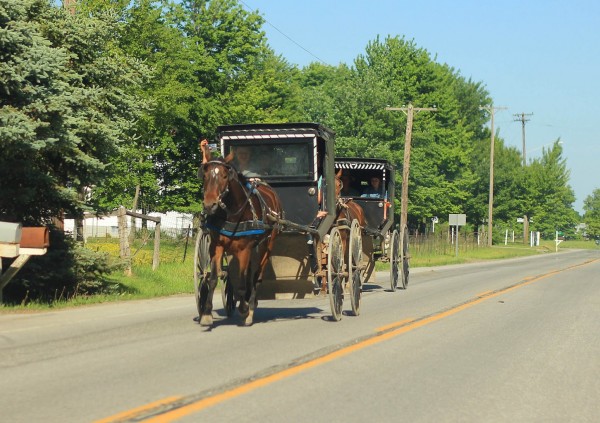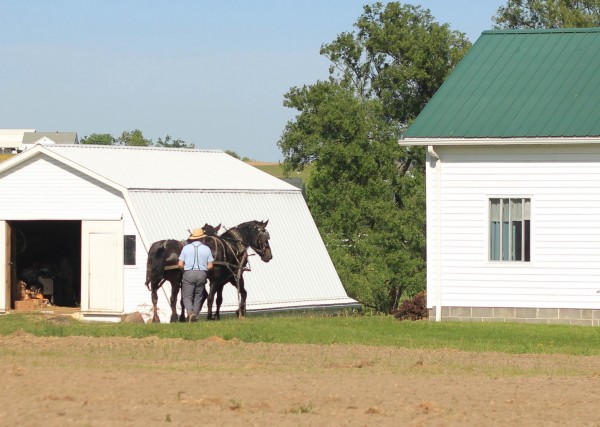 We knew from the internet that the Amish stores close early. But it turned out that on Sunday they are completely closed. The Amish Sunday belongs to the family and to God.
photo…
On that day men's clothes change—blue pants and pastel shirts are replaced by festive black pants, black vests, and white shirts with sharp collars. The straw hats are also exchanged for black velvet or felt ones. No commerce and no business happen on that day; families get together in the garden or go to visit each other.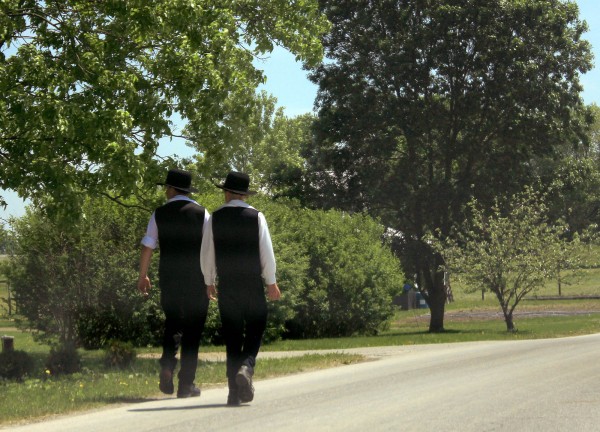 Another interesting thing is that the Amish don't ride bicycles, but nonetheless, big-wheeled scooters are very popular. It's also possible to run into kids on skates. The demands from the young, unbaptized members of the community are mild: they are usually allowed more than those who are already baptized.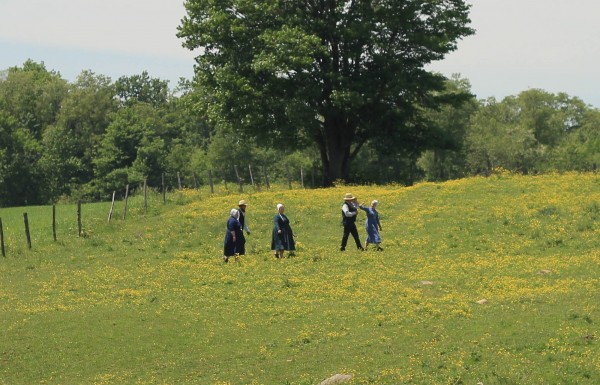 The Amish of the main sect are allowed tobacco and alcohol; this is why we ran into carts full of mischievous teens with cigarettes :) Or dreamy men, well in age, puffing a pipe on the go. They all slightly resemble hobbits, just taller and with a more austere look.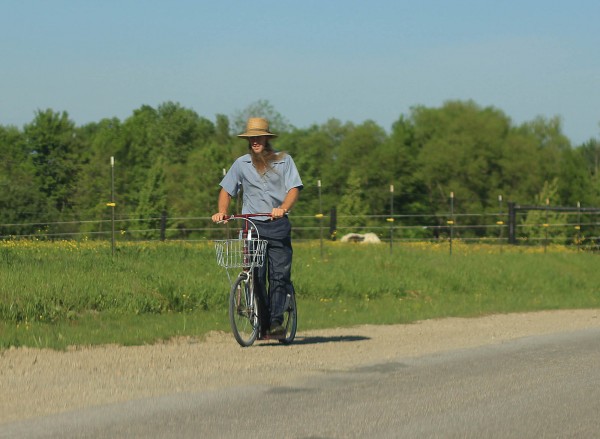 It seems as if their entire earthly life aims at taming the passions, struggling with pride, etc.. But after spending two days in these parts, we now have more questions then before :)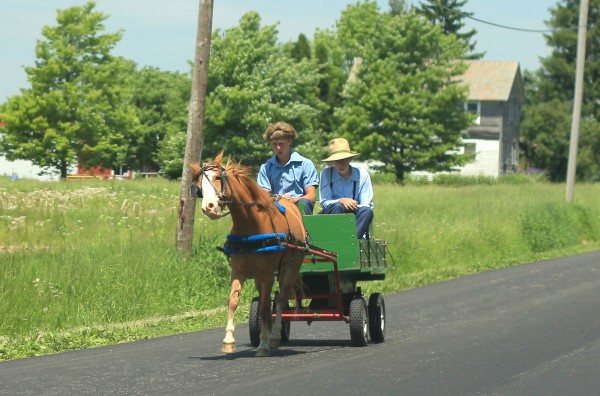 The Amish don't use electricity for personal purposes, but, needless to say, their cheese factories are supplied with all the necessities. Their stores are also connected to the grid. The Amish don't own personal vehicles, but they use more than just public transportation. We did not run into cars that were driven by an Amish, but there were plenty of cars full of bearded ascetics driven by a "normal" person.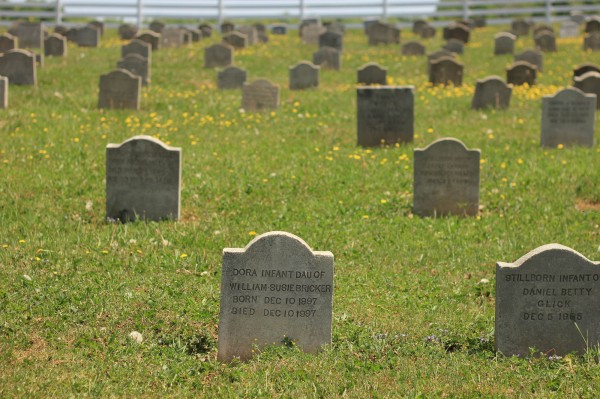 The very first Amish resettlement in America experienced several divisions within its society. It's common for the divided groups to not have friendly relations with each other, and this fact exacerbates the genetic environment—genetically each group is even more detached from the other.
Besides all of this, the Amish have many children, lead a healthy lifestyle, and, according to some evidence, are one of the fastest growing populations… We became curious about how they manage to retain the youth in their communities. "Their firewall is probably strong!", jokingly remarked Nikita :) But what "firewall" can defeat the freedom of a young soul? All in all, we have no idea!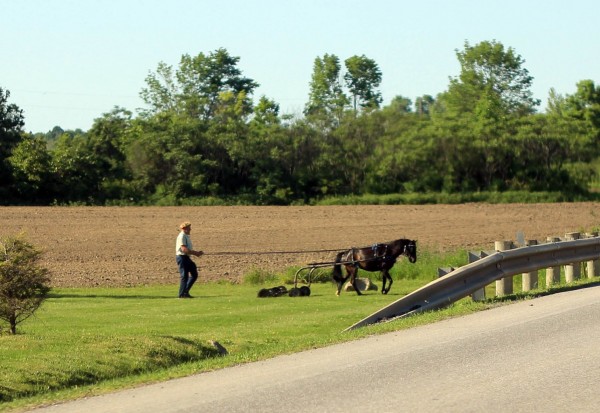 But all these are ideological questions; the people themselves probably are very pleasant! We don't harbor a desire to judge them at all. And even the opposite, seeing the disabled Amish in electrical wheelchairs, we just rejoice that they are not constrained by any of their laws and can make use of that which makes their hard life easier. And their life seems bright.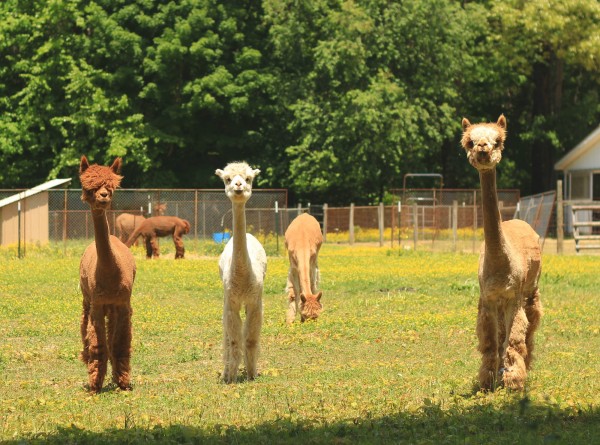 And their apples are authentic and tasty—not at all uniform in shape and not all the same. The Amish are hardworking pacifists! And it's pleasant that such interesting places exist in our modern world. And our new questions even cause us to experience gratitude—they force us to search for answers not only outside of ourselves, but also from within.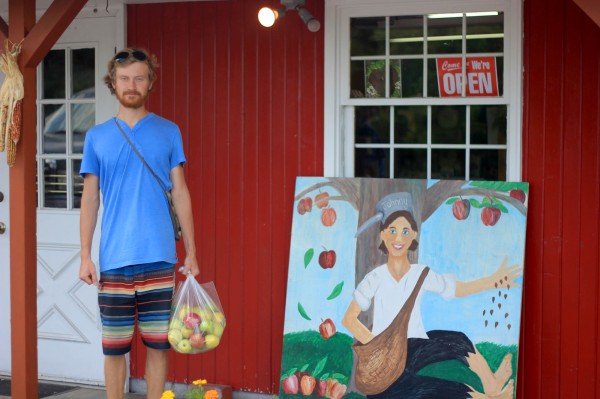 It needs to be said that the Amish village wasn't our only surprising finding. In its depths we found a Greek Catholic women's monastery with four nuns, and the serving priest there is Fr. Andrei from Russia.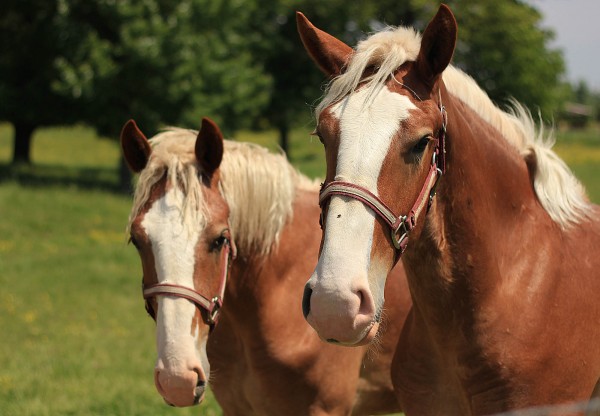 Unfortunately we didn't run into him and didn't find out how he ended up there, but the fact itself became an interesting discovery. In the depths of Ohio in an Amish village there is a Russian priest in a Greek Catholic monastery! America— the country of surprises! :) And on the spot of the "Amish Church" itself, that same one to which the road was leading, turned out to be a wasteland, slightly overgrown with brush and trees.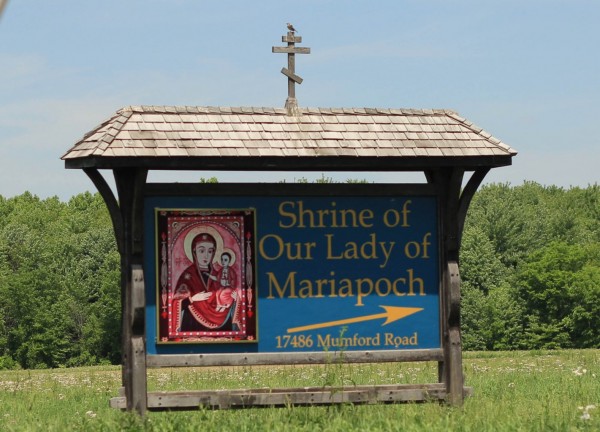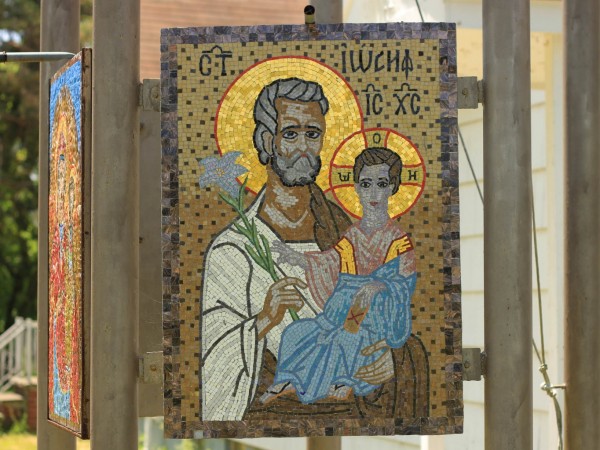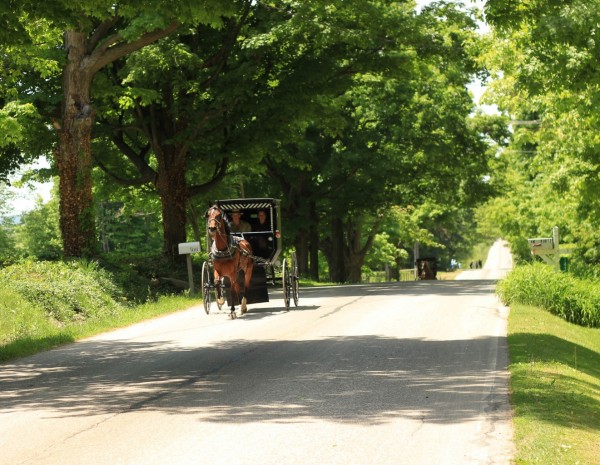 ---