What I want to talk today, actually, there are many prevelikom around the world. Watch this can be not only bad, but in good quality (often where climate and "storage conditions" appropriate) directly under the open sky. This petroglyphs, ancient images.
For the first time, I saw rock art in the Caucasus for a long hike to Prièl′brus′û (here it is-above). With the group we saw several grottoes in an almost steep slopes and decided to vzlezt′ to the nearest. Inside found numerous drawings. The paint was so bright that the first thing that came into my head-"someone joked. "It looks like human figures, returned with the Kazantip!"-fun commented on photos on the Internet. Only much later I learned that many in the Caucasus, a lot of petroglyphs scattered throughout inaccessible places, varying degrees of antiquity, the different nationalities that lived there. Many of them are not bad. And most likely, those pictures that we saw were not modern as we are all thought of the checkups conducted at.
It's been a long time. And now, in our journey, we managed to get in touch with Nikita with this kind of art is very closely and really pay attention to it. And it happened in the United States (in Australia we have also been known to place with pictures of the ancients, but reach them not return leg). In America we have had his own machine and complete freedom in the choice of destinations. We could hardly pereglânuvšis′, almost finished reading each other's thoughts, change the route to 200-300 km, for the sake of a single stone! And it was awesome:)
"Look, no mark (on the paper map free), so. .. "newspaper rock." And here we are already turned off the path and spend the night, probably, will not at all where we planned in the morning.  So finding was discovered, which was the apogee of immersion in rock (mural) painting. But I crept into forward.
It all began with what remains in the very first of our glorious time in California we, living in a village of Three rivers, continually chased in Sequoia National Park.  Where begins the climb in the Sierra, and end Tysâčefutovye Hills, Patviša Indians once lived.  
In winter they lived in the lowlands, summer in the mountains and lived among the giant sekvoâdendronov (I'd herself so she lived with Nikita:)).
In winter they were hunter-gatherers and farming in the summer, gathering and hunting.  Where Tysâčefutovye the hills turn into Sierra left multiple tracks of their villages. Their lifestyle was well known, because once they "picked up" somewhere injured European (Hunter or fighter-don't remember exactly). Almost hopeless. And coming out of it. While he lived, he is remembered and described. And burn it later allowed to recreate a picture of their life: what served as the hole in the stone, why the stones also have other indentations where the Hospital (Yes, they had a place where the doctor was treated and where the whole village). And here, in this place, where he was admitted to hospital, the walls are left many pictures patvišej … Decrypt them, of course, no one could. They are a bit "arrived", but surprisingly held. A place difficult of access, our contemporaries (it's hard enough to go to him and his moustache), so having fixed on a sloping neighbouring rock, you can porazglâdyvat′ them as they were created.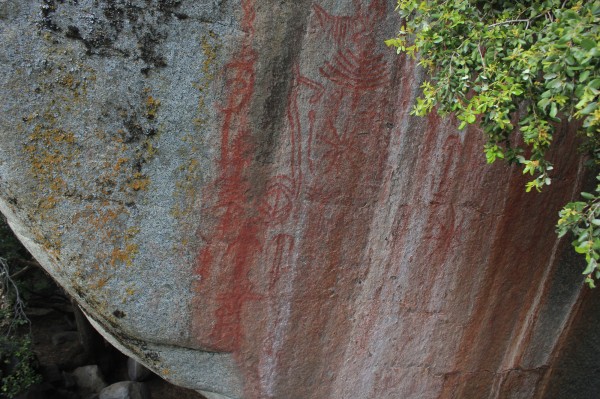 "The new figures on the rock scientists have not determined their meaning, and not even have them. We do not know what these figures tell the story: Tales of this artistic drawings, hunting spells, symbols of clans, prehistoric graffiti or anything else. Without a proper understanding of the petroglyphs, there is plenty of room for personal third-party interpretation. "-inscription on one explanatory plate from the National Park Service.
It is this interpretation-private-lesson very fascinating:) In addition, images sometimes perplexing, sometimes touching, sometimes seem eerily familiar. Drawings on the rocks, it is like "an elephant with a raised trunk" is definitely a letter. And like it or not, when you look at them, you feel like a receiver.
Awesome even that relatively modern wall painting, let's call her frescos, but those same Indigenous Americans inspire almost the same way as their ancient drawings.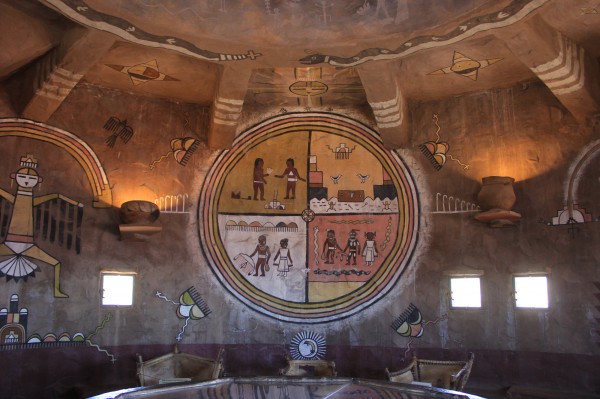 For example, the Grand Canyon National Park has a lookout tower "Desert view" it looks old only because of the style in which it was built for the 1932 year quite ad:) And it was built in the style of a native American tribe of Pueblo buildings. To decorate the walls inside, invited artist Fred Kabotie, which belongs to the interesting Hopi Nation, they still live in the three reservations in Arizona, speak their language and traditions. Including painting and symbols.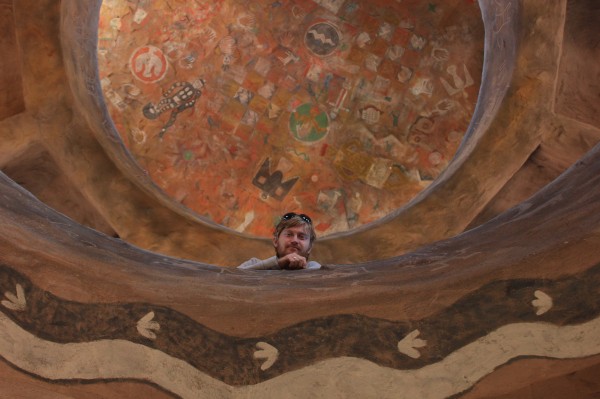 Their history is closely connected with the Navajo (Navajo themselves call themselves Diné), and perhaps that is why some characters and similar. Fred, most likely brought together several tribes in their work (or is it direct similarities between them).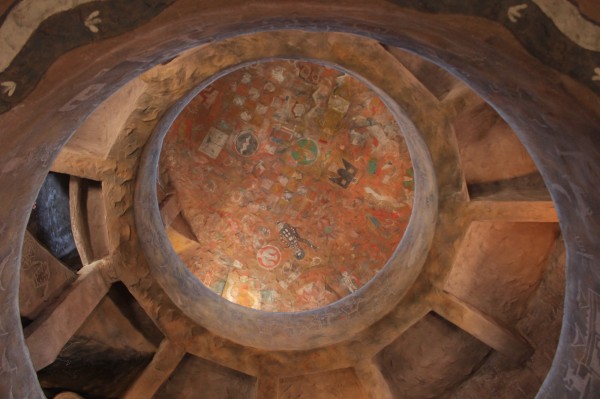 From the first to the top floor, you can pass on the Helix, using narrow steps. Along the walls, along endless drawings and stories, symbolic and simple life. Yes, they are modern, but incredibly beautiful and touching:)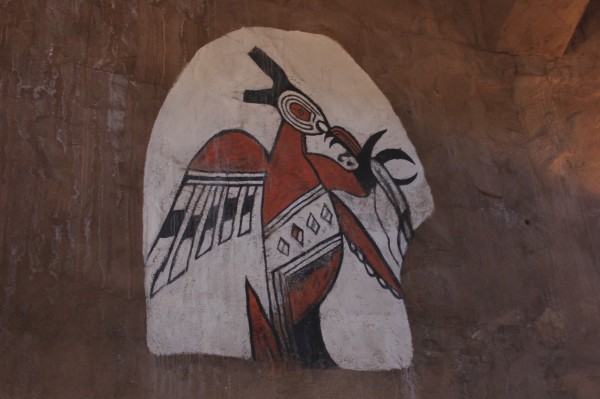 You can imagine how about looks that by and large have not survived to the present day. These walls also speak with someone who looks at them.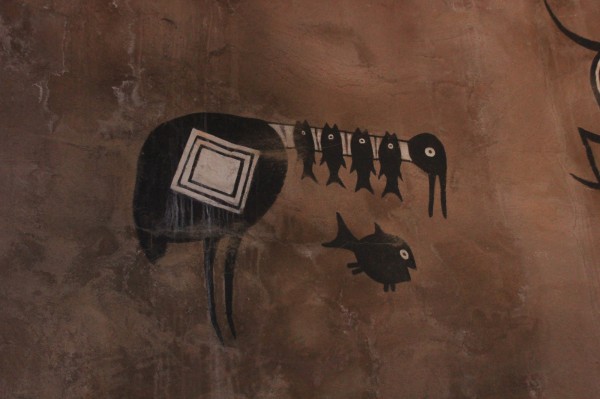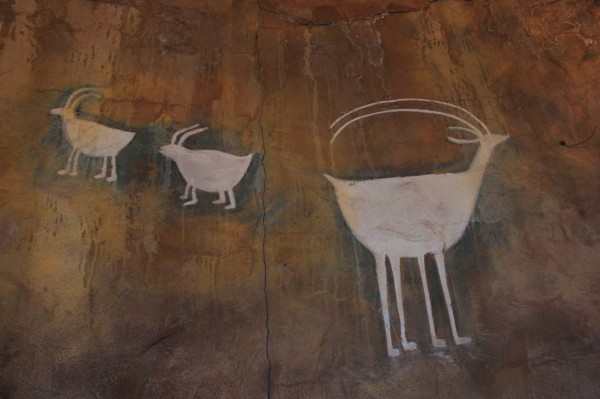 Fred is dead for the year and two before our birthdays with Nikita … Somehow, it's nice to know its intimacy.  And despite the fact that on the first floor of a banal souvenir shop, on all floors with steep fotikami tourists, we enjoyed this turret. Its walls:)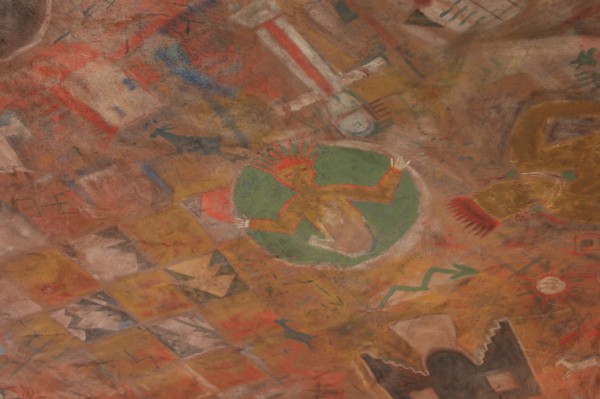 (many tribes in beliefs exists one God, and the Holy spirits who help him and obey him-that's it-Center)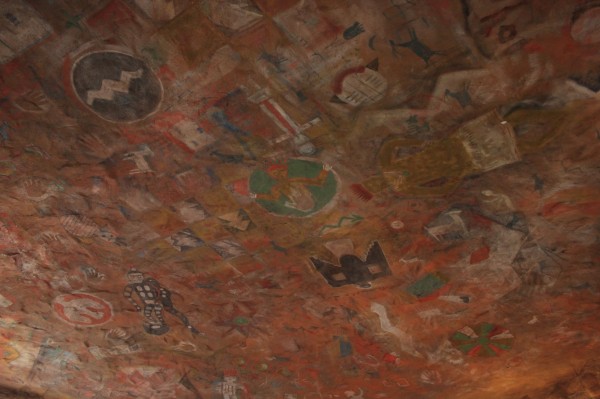 Didn't have to go far from the Grand Canyon to face with drawings on the rocks again. In the same Arizona in another national park-Petrified Forest-cherish (sometimes not even digging) structure of native Americans-the Pueblo. They might even be the first who built public house (Yes that was one of the first who ever built). They lived in these places until the 14th century, and then are gone. Maybe because the river dried up and hunger, and may even, for some reason, scientists admit the less obvious options.
But the people of the Pueblo were not the first in these places, since the very beginning of our era, lived here and basketmèjkery-these people are practically first switched from nomadic to sedentary lifestyle than deserved the title of "first farmers". Both these nationalities during thousands of years polutory was escorted by their everyday life drawings. Corroding them on black surfaces of stones. Stones and lie, carefully storing the secrets entrusted to them (this is not Winchester and not stick).
Here we first encountered an interesting way to save pictures of the barbarians: you come to the point marked on the map, and there you'll find telescopes, and the stones on the disposal of poleživaût yourself in the desert.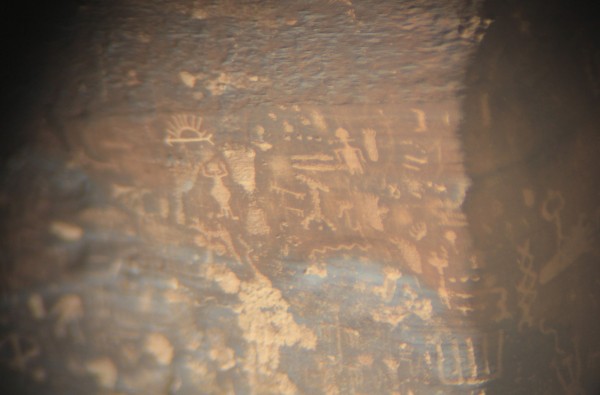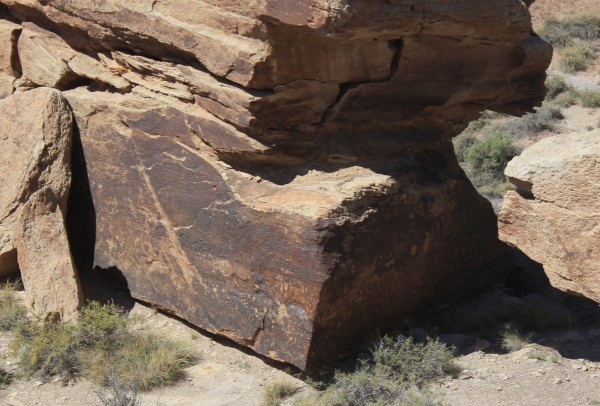 Petrified Forest-Park with the most stringent rules that we have to adhere to-go paths simply cannot. We were, in principle, and not against, and it isn't terribly hurt so brittle millennial vestočkam. Sorry, it was just that telescopes are not always convenient.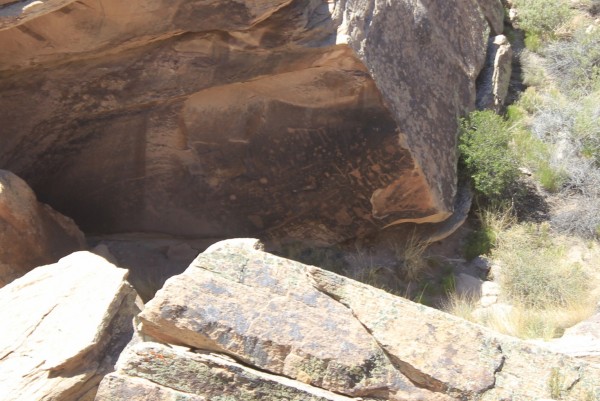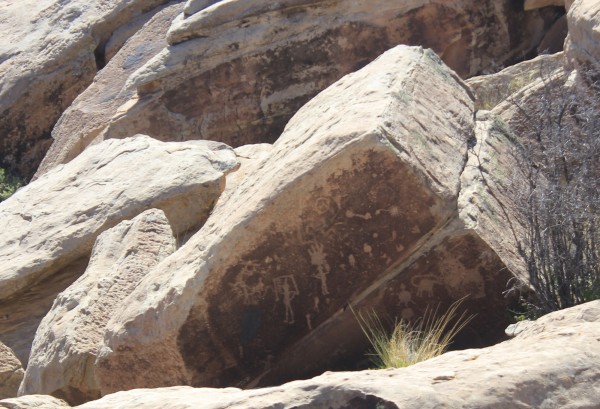 In one of the "painted" items, called far from original (as we afterwards understood) "newspaper rock" stones lie just around the corner, touch, of course, it is impossible, but not particularly need a telescope to discern what is drawn. This place is dominated by images of Pueblo (they lived here long and painted over basketmejkerskih images). And Interestingly, some of things scientists do have:)
We have seen clearly what read: once in this place was full-flowing river, which gave the opportunity of a lifetime-and here is the Pueblo-high grass, bug, bird, Ibis … These birds live only in water. Ibis eats man-this is because it was predan′ice: If the child does not listen, then huge Ibis eats it like a frog (we all not so different:) does anyone have Ibis who grey volchok, and the crux of the matter does not change). This bird was one of these people and symbolized forever something about death. We were like mom bring disobedient children to this picture and wagged a finger at the picture-show "here's a look at what awaits you! not I invented! "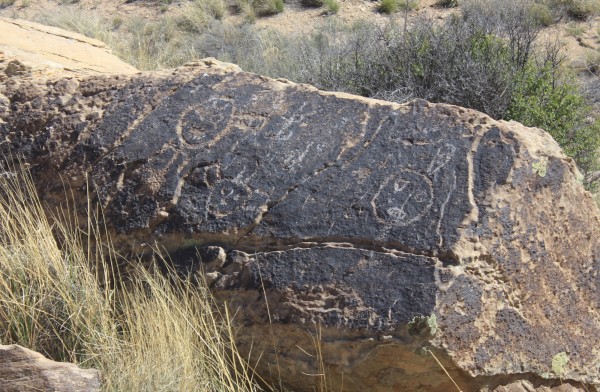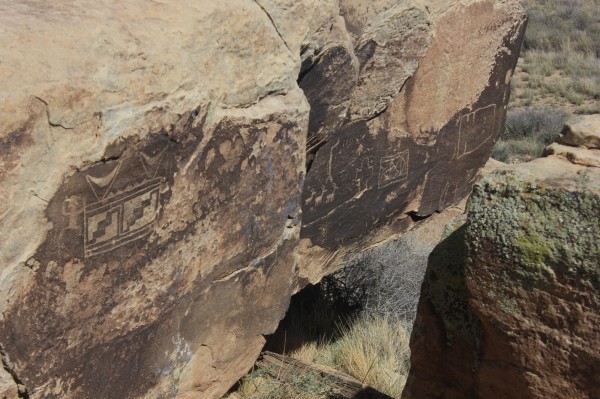 The next time we saw the pictures only in Utah.  And this was just the very Apogee! The very unplanned detour in 300 km, of which I told in the beginning. As usual-traditionally-road that ran on ploskotine straight, suddenly start squirming and "sinking", sinking deeper and deeper. This is what I have so far not used in America, what I like is not less, maybe even more than takeoff! This surprise, these mountains are not top and bottom; to be among them, you need to first of all fall through to the bottom! And now, almost at the very bottom (first!) rock called ogromennaâ (what do you think?) "newspaper rock" covered a variety of drawings-absolutely nothing, except a small black zaborčika is not secure.
Right next to the road! Here all registered people Archaic tribes and tribe of Basketmèjkerov and Frimonty, and Utah, and Navajo, and even how it's not funny, European identity (most, I must say, primitive drawings and inscriptions, belong to the latest-all the same "Joe was here", "I love Mary"). Before Europeans-two thousand years of life! Two thousand … Two thousand years of dreamers, stories … Observations …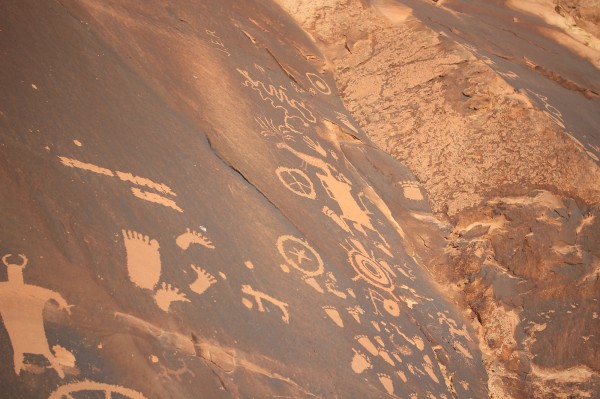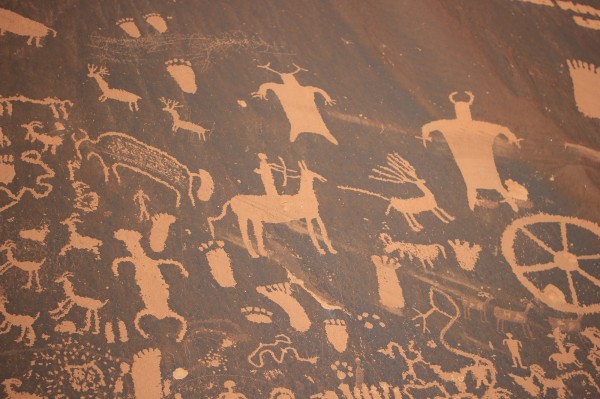 Almost all animals recognisable. Here is the run bol′šerogie sheep (bighorn sheep), they have a leader with huge antlers, goats and ewes with small-we have seen them such!:)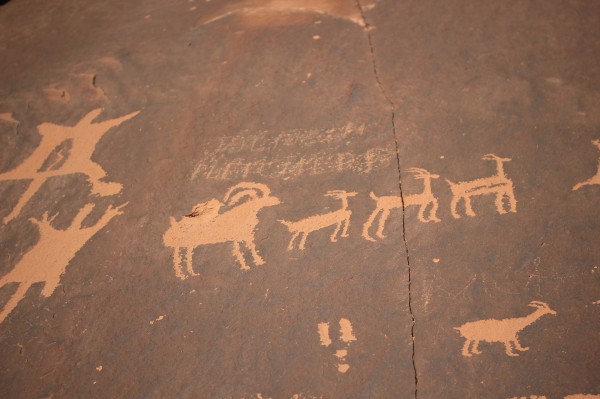 Here is the bison. Another, more … all are drawn differently. Riders on horseback with bows. Here's a fearless Hunter target archery and fearless Bison with bent to the ground head-he's clearly not going to give up.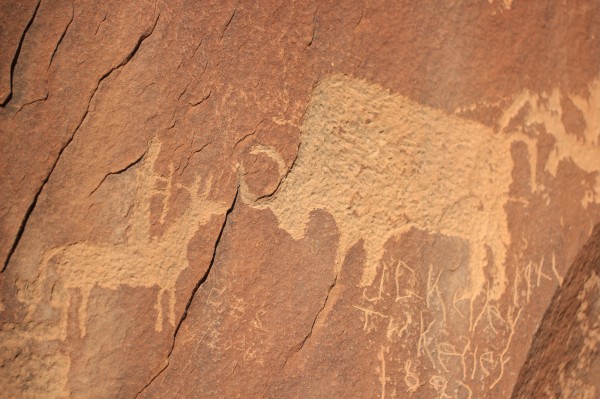 Bear paw and footprints, traces of goats, deer tracks, palms and drawings of human feet.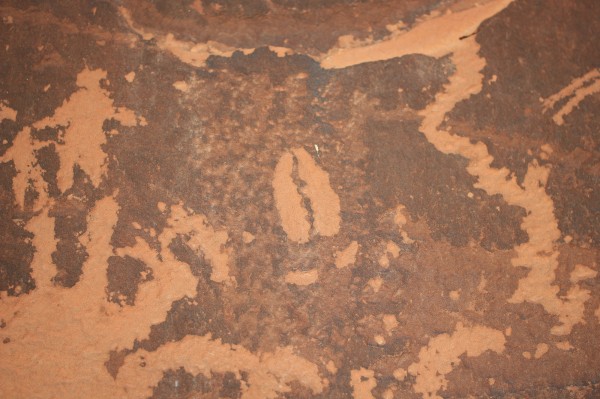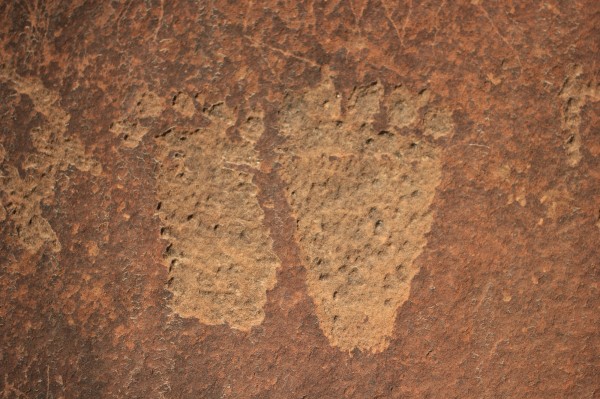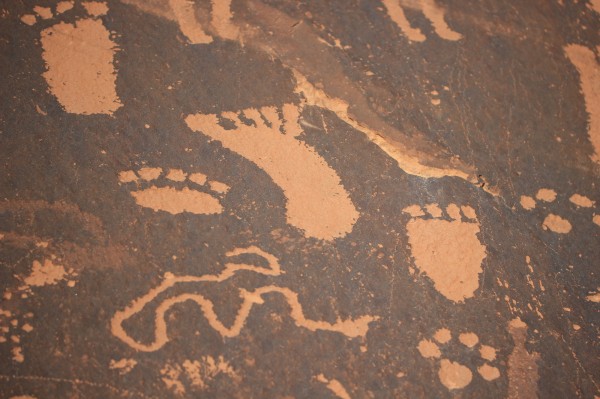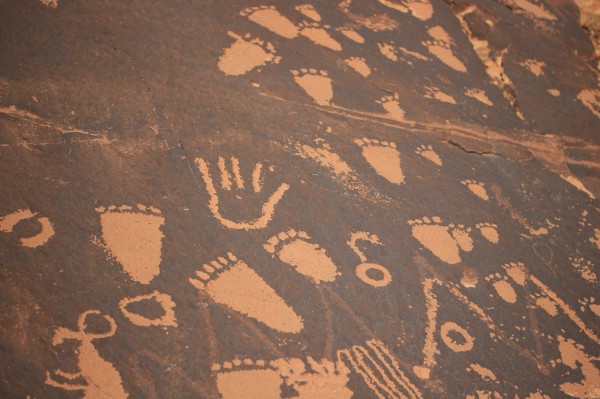 Some squirrels-flying squirrels! Do they live here so far? Or still is no longer living?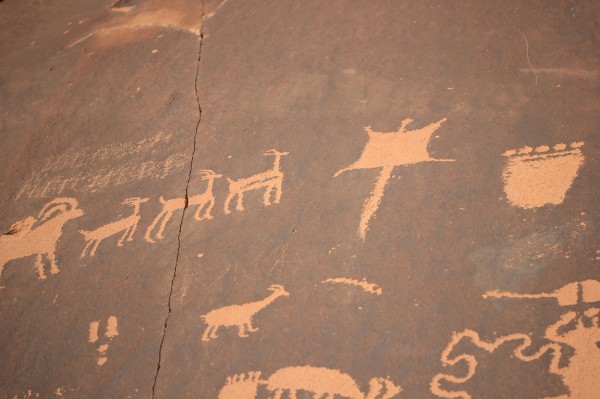 Only, it seems, across the "newspaper" woman with a wide hem dresses.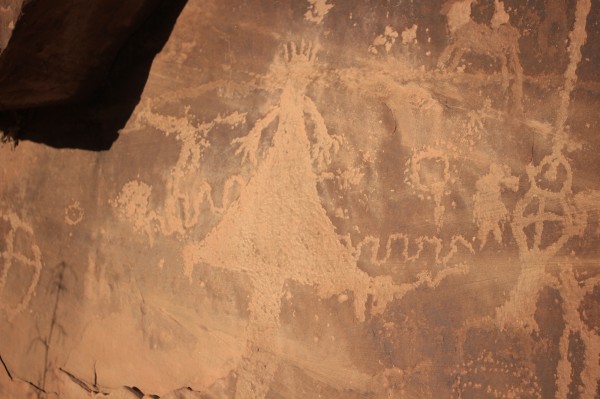 Many Suns, and wheels, Pacific, serpents, Twining around the shapes. Through some of the pictures seen older. People, people … horse riding and hiking.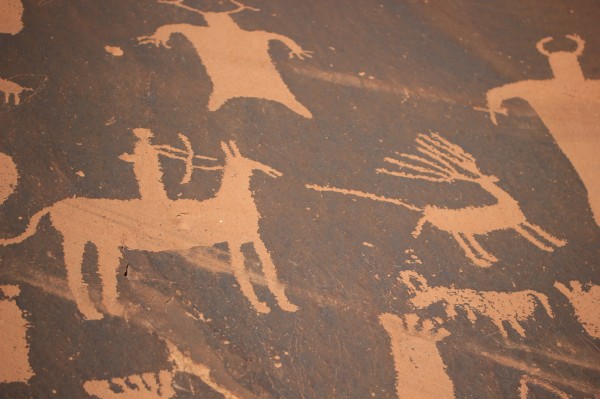 (end of deer …)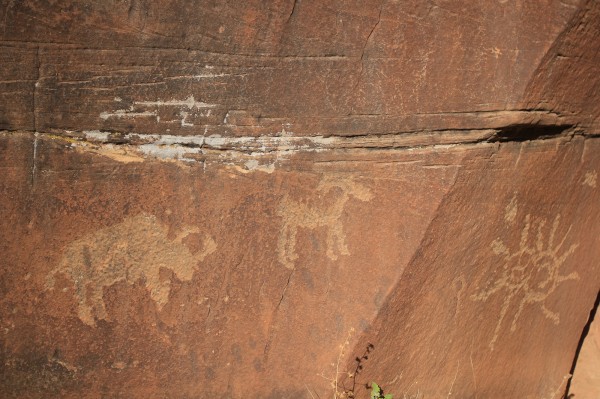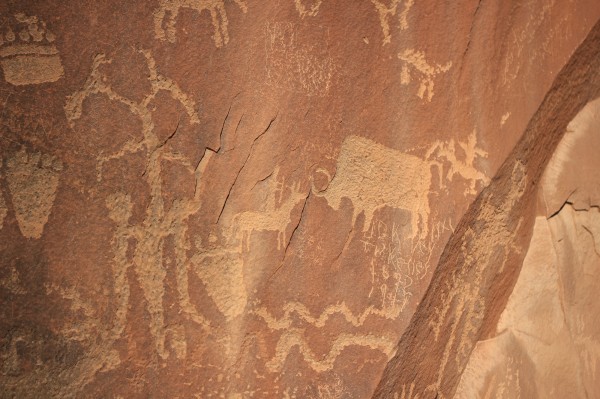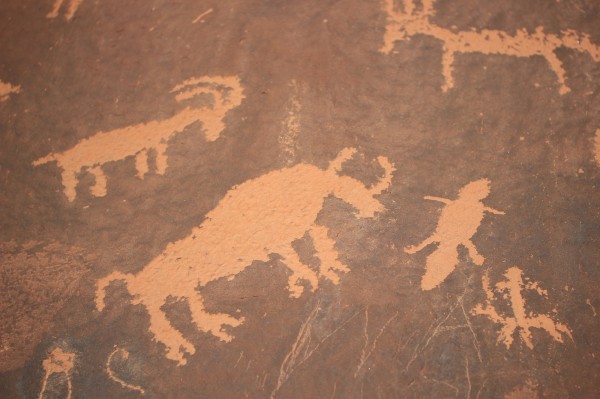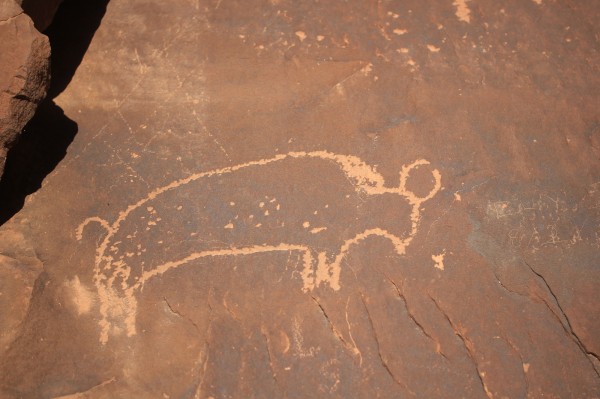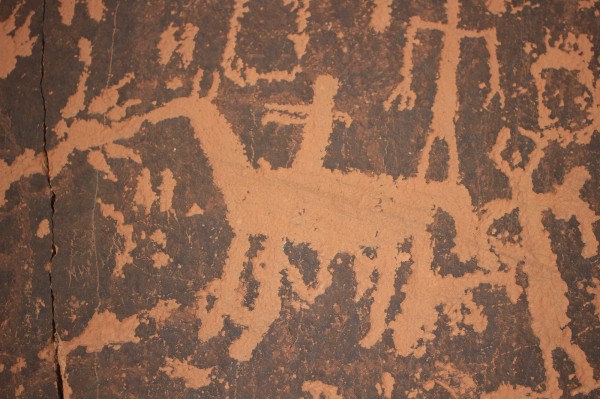 Repent, touch gently, not images, but the wall like uncontrollably, and I did it. How many people more than two thousand years of touch to it-here among the rocks and bushes. This is not a city. Here, their presence is felt quite differently.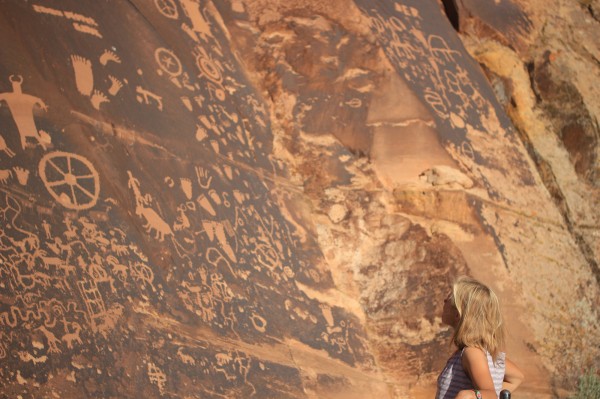 Here, people like good featured. In the immediate, as if you do not feel any drawings of children's malice. It's a simple life with that world, which accompanies it. Don't know how to describe-words are not enough. We spent a lot of time there, and then another long remembered cute drawings and tried to reproduce them on the rear glazing machines white marker:) now with us across America ran large-horned goat:)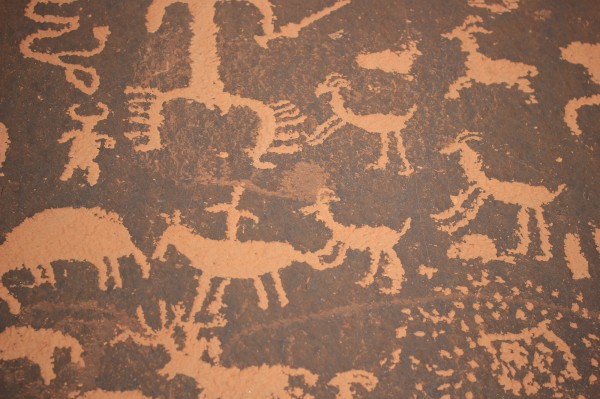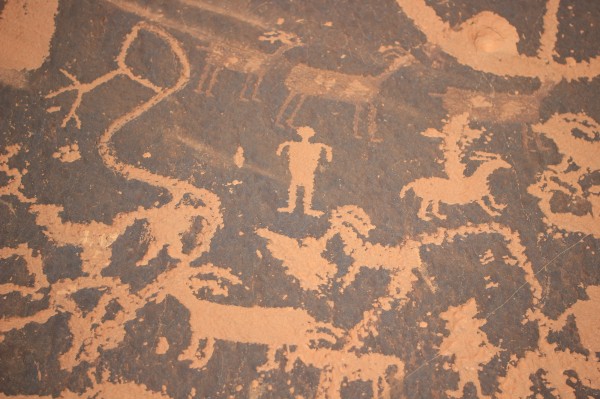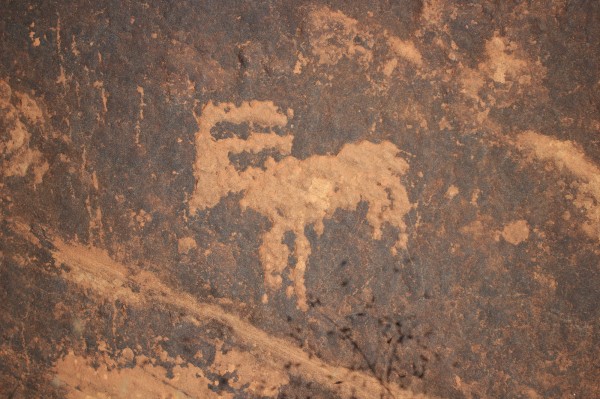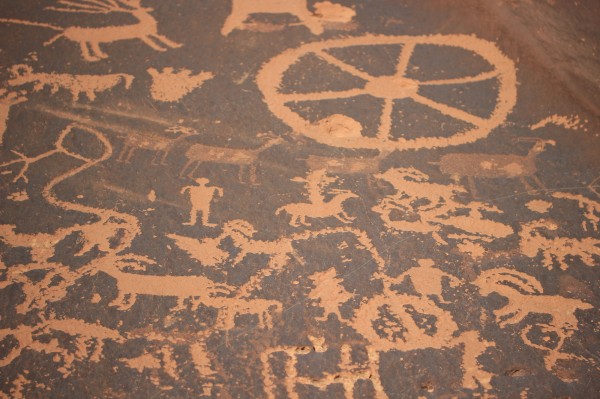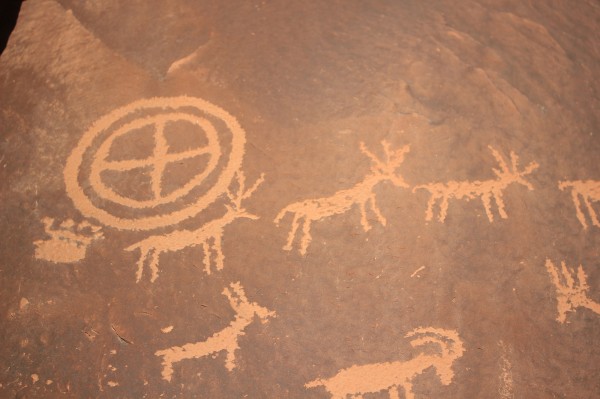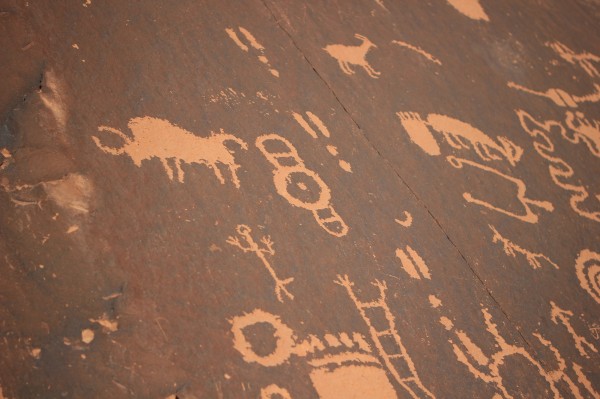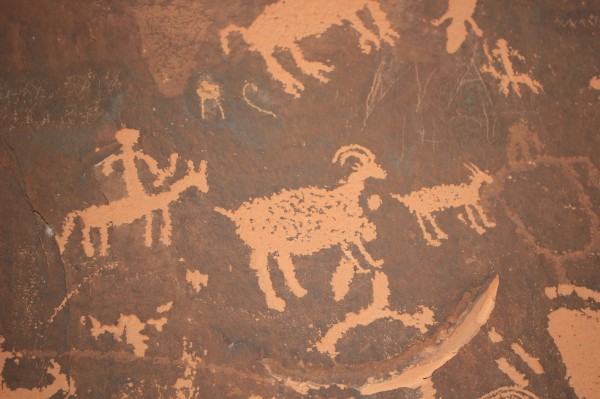 Then in the same Utah Capitol Reef National Park, admired pictures Frimontov and Utah. There they were again out of reach, but always interesting:) Strange people remained on the steep cliffs. Tall and plečistye:) In strange clothes. You look at them, and it seems that they froze from thy sight, looking surprised at you. For us, the Mormons who lived here, and to all those who appear in these canyons. Look for a thousand years and still look the same.  While rock themselves would recoil not be scattered into dust.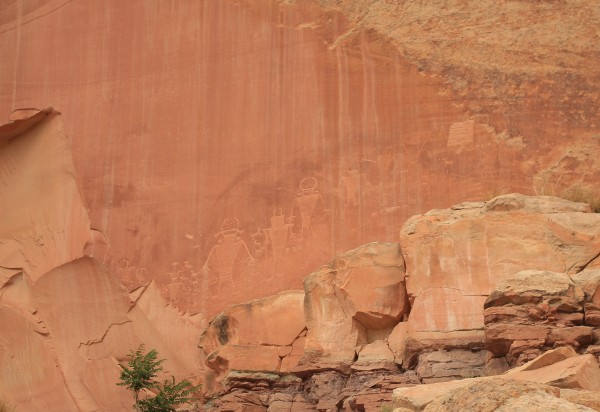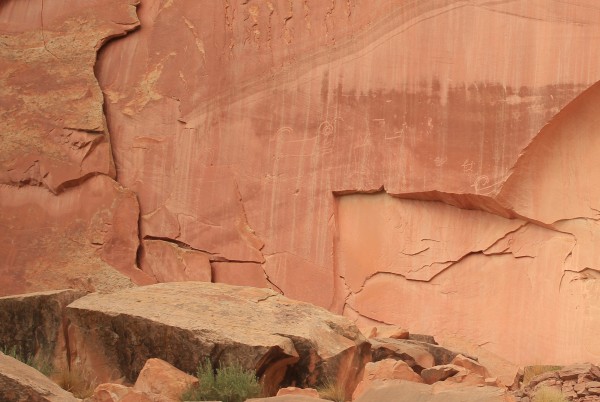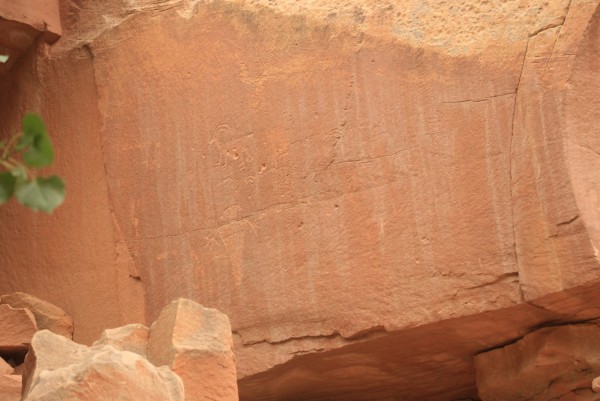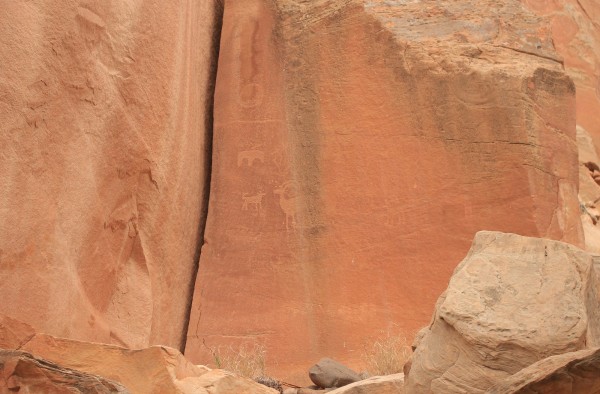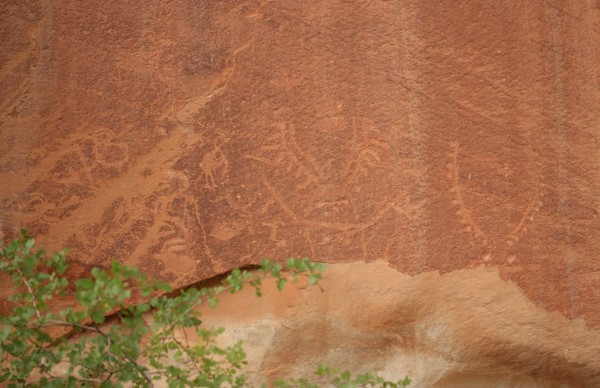 We come and go, and drawings remain:) Puzzling and inspiring those who flashed before them.
Thanks to this familiarity with such art in the United States I had another dream-search and find little-known, not listed in any registers images. I know that such is everywhere-from the deserts of the Arabian Peninsula to the tip of South America.  As sbyči, we promise to share! Viva la Vida!:)