Share information, how to get a tourist visa to Australia, Bali. Our experience of the year 2014.
If you do not hunt or difficult to obtain a visa on your own, get help from the company VisaToHome is an unparalleled online service which enables you to simplify visas for citizens of the Russian Federation. The company cooperates closely with international service-visa centers of 19 countries and regularly expands its visas.
From the client is only required to collect the necessary documents, photograph them and send them all the other visa issues they decide themselves.
First tips, then steps:
1. Visa to Australia to Bali-it's possible! Retrieved. So be sure and do not be afraid.
2. Be skurpulezny in documents preparation, from their recruitment varies a lot.
3. Fill in the form carefully and honestly. This may take more than one hour:)
4. Count so that the decision can issue three weeks after you applied.
5. You can come twice. In the first question of the employee and take form. In addition, give instructions and list of docks, which need to bring.
6. All documents must be in English. It strictly.
Where is the visa application centre?
They periodically change their location, so that up-to-date information is worth catching on the official website in the section "contacts": http://www.vfs-au-id.com/english/.
In February 2014 year visa application centre to apply for a visa in Australia, New Zealand and the United Kingdom was at: Benoa Square 3rd floor No. 7-9.3/A
Jalan Bypass I Gusti Ngurah Rai No. 21A
Kuta, Bali, Kedonganan-80361
This is such a new large downtown Square at the intersection of Benoa in Bali not far from the airport. If you go towards Bukita, Benoa Square will be on your left. Parking with automatic barriers 1000-2000 rupees depending on time.
Working hours: from Monday to Friday from 8:30 to 16:00, even on holidays and weekends, the list of which can be viewed on their website.
List of documents
1) application-questionnaire for 14-and sheets. Filled legibly in capital letters.
2) valid passport.
3) copy of passport (all pages where there are stamps + 2 master page instance where your photo and basic information). Better to do it in advance, because at the heart of making copies more expensive. Although not required, copies of previous passports can also be done. We have been doing. In this case, even with a grab yourself the previous zagranniki.
4) one photo for visa. Write that its size should be the same as you have in the Passport. You can take the same photo.
5) If you're working, need help with work (printing, indication of position, seniority, wages, and the period of approved leave). If the trip you pays for bosses, then it must also be stated in the certificate. If you work on itself, then you need business registration certificate or a certificate of a shareholder.
If you are a freelancer, as we write in the questionnaire-simple: Freelancer, do such work.
6) if someone in Australia supports your visit, need sponsorship from him a letter outlining the purpose of your visit, the length of your stay, the nature of your relationship with them, and the type of support that it provides (for example, finance, accommodation, etc.), certificate of status (for example, a copy of an Australian passport or Australian Visa). If the sponsor is not in Australia, most don't need to.
7) important item: proof that you have enough money or access to money, namely an extract from the Bank for the last three months. Credit cards or cash are not suitable. You can make a copy of the real information from Internet banking in English. This too will come up.
8) If you are under 18 and you are travelling without their parents, need a letter of consent from the biological parents, the completed form and a copy of 1229 their passports/ID cards. If you are travelling with one parent, will need a letter of consent from the other parent, the form and the copy of 1229 his ID card or passport (that is).
9) If you are over 75, you need a medical certificate (form 26) from doctors and insurance for the whole period of being in Australia.
10) any other documents that may help in obtaining a visa. We have been printing tickets to Australia and from there to the United States. We too have made, together with a copy of the insurance.
11) visa fee: 9.900 rupees and 20,000 if you want SMS-notification. We refused from it, because You can easily see the State of the application at the website. And then comes confirmation by email.
Comments
In the questionnaire, there are questions about whether you served. It is believed even military Department. Because I voenku took place, so honestly and wrote there in a special box.
If you have the application form under "medicine" on any of the items is a positive response, it is possible that need medical help. The first question in this section: "have you three consecutive months are not in their own country?". It is believed three months in one country. If you are in one country, spent a month, then in another month, etc. is not considered.
The graph should indicate a valid mobile phone number that you can call to you. With about a week or two you will call and hold a conversation about the purpose of the visit, your work and other issues. I have asked, for example, where I served, whether it was military service. I.e. shot I was there at war, etc.
Credit card number can be left blank, as at the visa application centre shall take the cash on hand.
The official term of consideration of applications-3 weeks. Plus or minus a week. They send all documents in Jakarta. Count time in advance. We answer came through 13 days. But it can be any.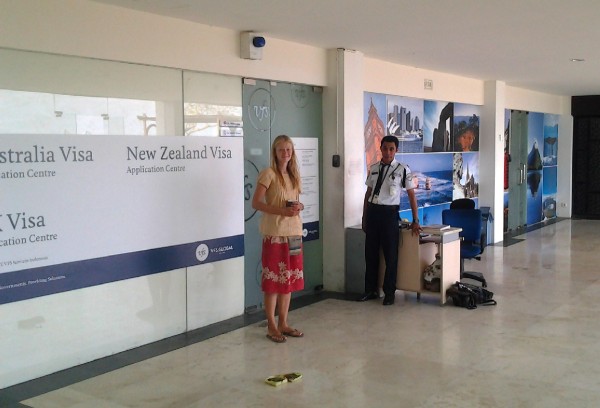 After the deposit of the instruments give you the number and instructions on how to check your status. Everything is simple and clear:) But after 10 days can call specified in the proforma number and ask about the purpose of the visit in Australia, etc.
Visa Electron, visa application centre does not need more to come. You only need to print a letter that comes to you in the mail to his show at the entrance to Australia that we still have to … )
If you take advantage of our statement, or you have more questions, how can I get Australian Visa for Bali, ask and tell about their experiences! Us and others who are interested in this topic is very interesting! :)
Good luck to everyone!
Watch a video about our journey through the United States: part 1, part 2. Or is this short clip: